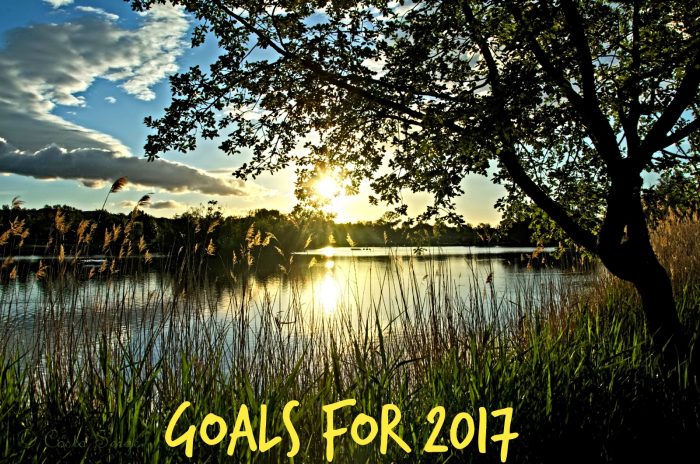 I totally meant to check in on my yearly goals earlier this month, but time slipped away from me and here we are, nearly at the end of April. (HOW?!) Nonetheless, I wanted to take some time to look back on the goals I set at the beginning of the year and see how I'm doing with them. For some of them, I'm doing great! And for others, not so much. Isn't that how goal-setting tends to go, though? I wish I had tried harder in some areas during this first quarter, but I still have three quarters to get stuff done.
Here's how I'm doing on my yearly goals:
1) Quit fast food and soda
Well, this goal was going well during the first half of the quarter, but then I sort of fell apart during the second half. I'm only having fast food maybe once or twice a month, which is good, but I still feel better when I cut it out completely, so I need to get better at meal planning and choosing better options when I'm out. Soda continues to be an uphill battle, but one I'm determined to win!
2) Read four "classic" novels
I have read two already: The Handmaid's Tale by Margaret Atwood and A Separate Peace by John Knowles. I've loved both books so much, and while they may not be classics in the truest sense of the word, they feel like classics to me, so that's all that matters, right?
3) Save $1,000 in an emergency fund
I've saved $300 towards this goal, but unfortunately, I'll be using that for an expensive car repair coming down the pipeline. The first quarter of this year was spent catching up on my credit card, which had a $1,700 balance in January (and now is nearly paid off!), so hopefully, the rest of the year can be spent working towards this emergency fund.
4) Start seeing a therapist
Finding a therapist that is taking new patients, accepts my insurance, and works with my schedule has been incredibly difficult! I got frustrated last month after a slew of back-and-forth phone calls with a therapist that went nowhere, but I'm going to get back to the search after my trip. I know how useful therapy will be for me, and I just need to be patient and know that I'll find the right person in time.
5) Write my novel
This goal is going exceedingly well! I've written about 30,000 words of my novel, so I have around 60,000-70,000 words to go. At this rate, I will definitely finish my novel by the end of the year. I'm having so much fun writing the novel, and I just want to do this for the rest of my life.
6) Get a tattoo
Hasn't happened yet, but I've discussed this with two different friends and both are on board to get a tattoo with me. I am hoping this will be a fun task I can mark complete sometime this summer!
So, I'm doing well with some of my more fun yearly goals (reading and writing), but I'm lagging behind on the less fun ones (healthy eating, saving money, and therapy). What I'd like to work on over the next three (well, now two) months is to quit fast food completely (I can do it!), save at least 5% of every paycheck, and email therapists until I find one I like.
I'm trying to remember that these yearly goals are simply for personal development. They are things I'd like to accomplish over 2017, but they are by no means a measuring stick for how well or not well the year went. I just really love goal-setting and making these goals helps me to continue to work towards something every day, no matter how big or little of a step I take.
Have you made progress on your yearly goals?