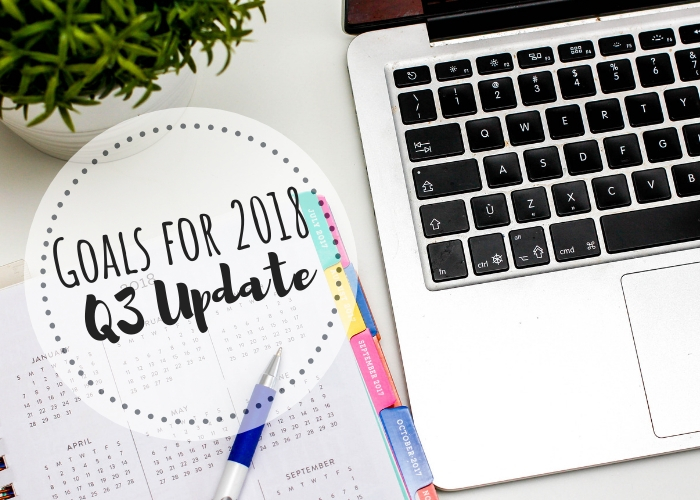 So, I really didn't feel like doing my quarterly review of my yearly goals because I am definitely not accomplishing most of the goals I put on my list. Looking at it now, I realize how differently I looked at my life nine-and-a-half months ago. For example, I put three goals on this list specifically tied toward losing weight. And now, it's October, and I'm nowhere near the weight I thought I wanted to be at this time of the year. But I'm oddly at peace with my weight right now. I feel good, great even. But that's a post for another time, and believe me, I plan on writing about it soon.
Anyway, even though I'm a little embarrassed to share this list, I stand by the process of setting and regularly evaluating yearly goals, so here we go:
1) Lose 30 lbs. Not complete. See above. 😉
2) Complete the Whole30. Not complete. It's not going to happen this year, and I don't feel bad about it. I don't even know why I made this a goal because I've never been particularly interested in Whole30. Alas, it's not a goal I'll be marking complete now or in the near future. (But never say never, I guess.)
3) Cut out soda completely. Not complete. What can I say? I love soda and I don't feel like cutting it out of my life completely. I am trying to cut down on the amount I drink, though.
4) Buy a new couch. Complete. Hooray! It arrives on November 1st and I cannot wait.
5) Complete a yearly shopping ban where I don't buy any new clothes. Not complete. Well, I did pretty well for the first half of the year and fell apart in quarter three. I should have known – I'm more of a moderator than an abstainer, so a better goal would have been to give myself a certain dollar number to stay under.
6) Stop using plastic bags at the grocery store, Target, etc. Complete-ish. I'm probably doing this 50% of the time, so I could definitely do better.
7) Read 100 books, including four classics. Mostly complete. I've read 100 books and three classics. I'll be reading my last classic during quarter four (most likely – The Catcher in the Rye).
8) Give up all dating apps for the entire year. Not complete. Oops, I added the dating apps back on my phone over the summer, and I definitely should have kept them off. Maybe I'll commit to spending the last quarter of the year without dating apps?
9) Try something new once a month. Not complete. This was such a vague goal, so it's no wonder I haven't really completed it. Although, honestly, I'm sure if I were to look back on my year, I could pick out something new I did every month, even if it was something small like trying a different restaurant.
10) Start therapy. Complete. Yes, yes, yes!
11) Finish my novel. Not complete. Well, I'm going to attempt NaNoWriMo in November, so maybe I can mark this complete by the end of the year! Who knows?!
12) Figure out what my Enneagram type is. Not complete. I finally bought a book to learn all about the different types to figure out what mine is, so this is something I will complete by the end of the year.
13) Travel to one new state. Not complete. Doubtful that I will get to mark this one complete, but hey, maybe I'll find a cheap flight somewhere and can take a weekend trip by the end of the year.
14) Exercise at least three times a week. In progress. Right now, my exercise of choice is walking and I'm definitely getting in some movement at least three times a week, but usually more than that.
15) Create a wedding album for my mom and stepdad. Complete. Finished this project over the summer and I was so happy to deliver the final product to my mom and stepdad. They loved it!
Did you set yearly goals?