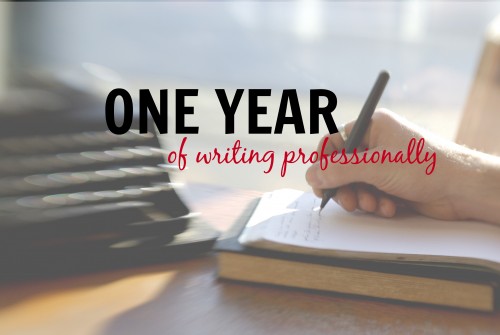 Yesterday, I celebrated my one year anniversary at my job! It's kinda blowing my mind that I've already been at my job for a year… these past twelve months have flown by in a flash. I still remember how anxious and fearful I was to begin this new career path. Scared out of my mind that I had made the wrong decision and everything was going to be terrible. (I'm quite the optimist, yeah?)
But I have proved myself wrong! Starting this job has been one of the best decisions I've made. I love my coworkers. I love my bosses. I love my work. I love that I get to set my own schedule and work independently. Sure, it's not the most thrilling writing to be doing. (I write SEO website content and most of my clients are home improvement companies. So I write a lot about windows and siding and gutter protection. Thrilling, I tell ya!)
The past twelve months have been such a learning experience for me. I knew it would be, which is both exciting and scary, and I have learned a lot about myself as a writer and as a person:
I will always take criticism – constructive or not – to heart.
So, we go through extensive editing processes with the pages we write. All of our pages must go through a peer editor (and sometimes also a manager's edits) before it's sent on to the client. So, I had to grow comfortable with my writing being looked over and scrutinized. The first few times I got edits back from another colleague, it was hard. My pages were all marked up! I had to really calm myself down, read through the critiques, and learn from it. I won't lie – I still have to physically prepare myself when I get edits back on pages I write, but I'm getting better at seeing the edits for what they are and that they don't mean I am a horrible writer and have no business in this job. (Yes. This thought pattern happens… often.)
But I can appreciate a great editor.
There are some colleagues who I love/hate getting edits from. I love them because they are strong editors who make my pages better and make me think of my writing in a different light… hate them because it's sometimes hard to read through constructive criticism. But I know this is a part of being a writer. Edits only make me a better writer.
Some days are just not going to be great writing days. Accept it and move on.
There are days where the writing comes easily, and I'm knocking pages off my to-do list left and right. And then there are days when it feels like I forgot how to put words together to form a sentence. Nothing works and it can take me upwards of an hour to write a single 250-word page. As someone who is pretty high-strung and anxiety-prone, I can get myself worked up over these days, worrying that I will never, ever be able to write again and why am I even here I am terrible at this why did they hire me oh my god what if I am fooling everyone?! It's fun being in my brain sometimes. Good writing days happen. Bad writing days happen. It's nothing to get in a tizzy about!
It's okay to not be the best.
I can admit that I am not the best writer on the team. I have some slight perfectionist tendencies, so it can bug me when I'm not the best. But guess what? There will always be someone better. And I don't have to be the best. It's not a competition. I just have to be my best. Do what I can to improve my writing and learn from others. At the end of the day, that matters more than being the best.
You don't have to hate your job.
I hated my previous job. I was micromanaged, talked down to, and I had a boss who made me cry regularly. I was doing work that didn't make me feel good, I was underpaid, and I was just so ready for something new. I had been told that that kind of work environment was common, and you just had to get used to it. I'm so glad I didn't listen to that advice because it's so not true. Not all work environments are like that. You can have supportive bosses. You can have happy work environments. You can love what you do. You don't have to hate what you do.
What's one lesson your job has taught you?