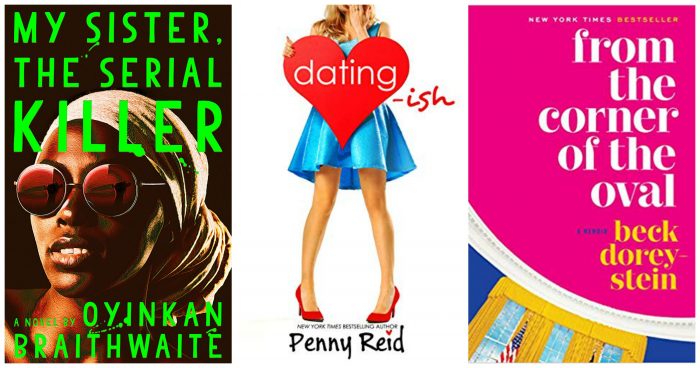 Happy Monday! I can't believe it's the last week of March and we're closing the books on the first quarter of 2019 on Sunday. Where does time go? It's crazy! I had a beautifully low-key weekend in which I slept in until 10 on Saturday (that NEVER happens!), went on a nice long walk in a park by myself, and met up with a friend for a working date on Sunday morning. I'm feeling refreshed and inspired as I enter a new week.
Last week, I finished three books and I'm happy to see that my reading mojo is back. It was scary when I was in a slump! Here are my reviews:
This is the story of two Nigerian sisters, Korede and Ayoola. Ayoola has killed her last three boyfriends, always claiming self-defense, and her sister is the one who helps her clean up the evidence and dispose of the body. Korede isn't happy with her role as the cleaner but she does it because she loves her sister. But when Ayoola sets her sight on one of the doctors at the hospital Korede works at – a doctor Korede herself has a crush on – she has to decide what to do next. It's such a unique plot and told in such an interesting way, in short chapters that flipped back and forth between present day and the past (this is where we really got a glimpse into how these sisters formed such a close bond). I enjoyed the story, especially the setting and learning more about Nigerian culture. However, I think it could have easily been a five-star read if there had been more detail to the story. It lacked just a bit of that special something I need to truly love a book, but I'd still recommend it, especially if you're looking for a quick read!
Like most of Penny Reid's romances, this plot is unique with eclectic characters. For example, the male hero in the novel is a scientist who is currently building an AI robot that can be a stand-in for a boyfriend or girlfriend. Like I said, eclectic. In the novel, Marie and Matt become good friends as he helps her with an article she's working on (she's a freelance writer) but that friendship soon turns into more as they spend more time together and recognize there is something special between them. But man alive, it took until the last few chapters for Marie and Matt to even share a kiss! Will-they-or-won't-they romances are just not my favorite, and I found my enjoyment waning the more time passed without anything happening between them. It was a fine romance, but a forgettable one.
In 2012, Beck Dorey-Stein answered a Craigslist job listing… only to find out she applied to be a stenographer for the Obama White House. Through incredible luck, she's given the job and is then thrust into a new life filled with international trips, tedious note taking, and running side-by-side with the leader of the free world in hotel gyms. This book would have been given an easy 5 stars if it was mostly about her life in the White House, but it wasn't. Instead, it was about her personal life. And perhaps if her personal life had been more interesting than stepping in and out of an incredibly toxic relationship and nights of drunken debauchery, those 5 stars could have stood. But nope, instead we're treated to pages and pages and pages of terrible decisions, a toxic relationship, and lying to her friends. I appreciate the vulnerability in her being completely honest in the decisions she made, but I don't think it made for a compelling read (especially when you put it up against other memoirs in this new subgenre of Obama staffer memoirs). All of the debauchery may not bug you, but it sure detracted from my enjoyment.
I'm currently reading…
> Pachinko by Min Jin Lee. I'm a little more than 100 pages into this novel (which is nearly 500 pages) and I am loving it. I often struggle with really long books like this, especially in the beginning as it usually takes the author a while to establish the characters, setting, and plot. But this one has captivated me from the get-go.
> First Time in Forever by Sarah Morgan. I'm splitting my time between Pachinko and this really sweet and lovely contemporary romance. It feels a little dated even though it was only written in 2015, but I'm still enjoying it.
What are you reading?