Happy Monday! Now that my new apartment is mostly put together, I thought today would be a great day to give a tour of the place. I'll preface this tour by saying my roommate and I are not decorators. At all. Most of our walls are still bare because we're still trying to figure out how to decorate them.
When decorating, I opt for comfort, minimalism, and function. I want clean, open spaces, but I also want something homey. Roomie is very similar to me, and we've really been able to bring this to our new home. I'm so happy with our apartment and it really does feel like home to me now.
So, shall we tour?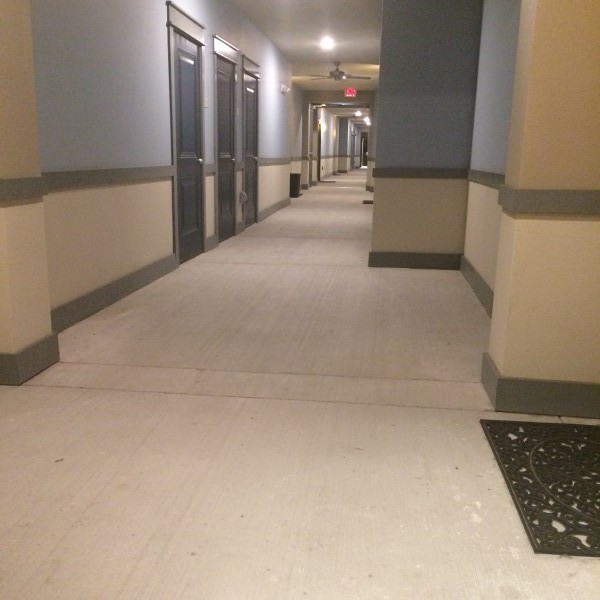 All my life, I've lived in apartments that have outside entrances, so it's a special treat for me to actually have a hallway and an inside entrance to my apartment. It definitely feels more secure, which is my biggest must-haves when apartment searching.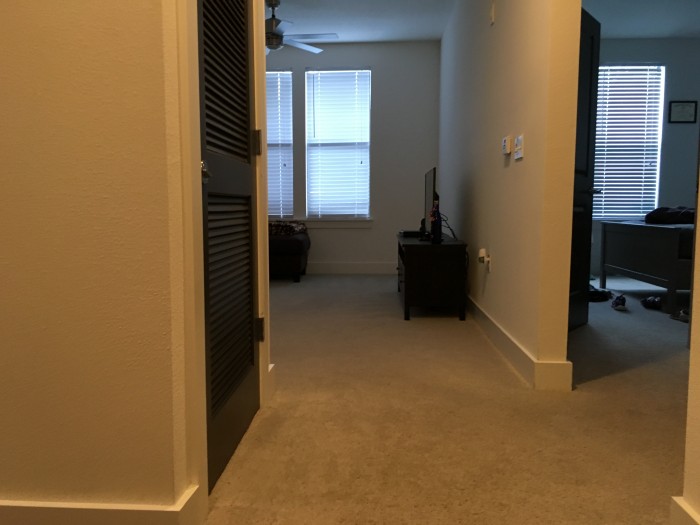 When you open the door to my apartment, this is the view you will be greeted with. To your left is the kitchen (and my roommate's room beyond that). In front of you is the living room. And to your right is my room, our washer/dryer, and my bathroom. Let's start with the living room!
LIVING ROOM
Our living room is small, but we don't need much room, quite frankly. The couch is wonderfully luxurious and the TV stand makes me weirdly happy every time I see it (adulting much?) Roomie and I have already enjoyed many nights snuggled on the couch watching TV, and it's every bit as wonderful as one might imagine.
And, of course, Dutch has his own corner for his blankets and pillows. He's not one bit spoiled. Not at all. Uh-uh.
DINING ROOM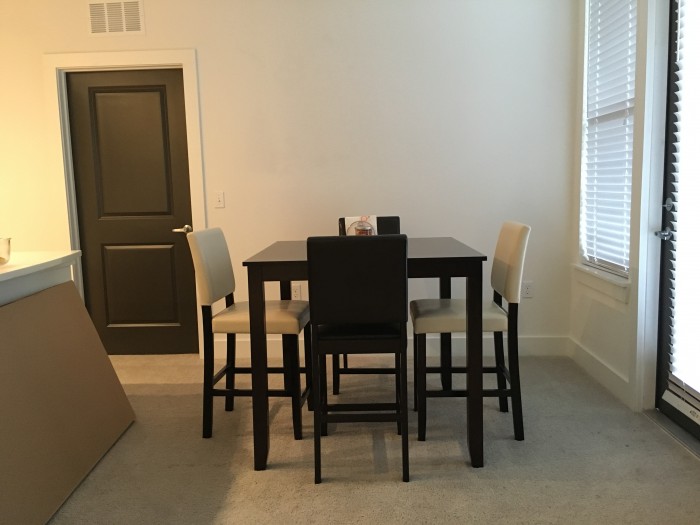 Right off the living room is the dining room, which perfectly fits Roomie's dining set. We probably need some sort of print on that wall because the room looks a little bare. In due time, yes?
BALCONY
Right off the dining room, a door leads to the balcony, which is completely empty. Roomie and I are hoping to invest in a table and chairs, and possibly even grow some herbs outside! The view isn't great (it's laughably terrible, in fact), but what can you do?
KITCHEN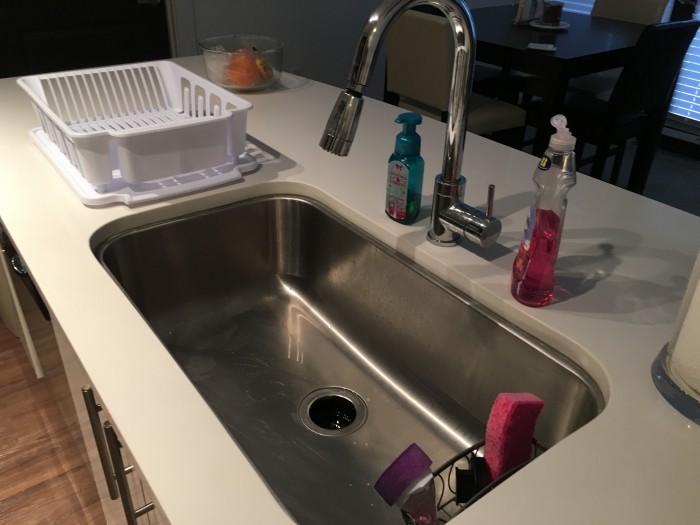 Oh, the kitchen. I love the kitchen. It's big enough for Roomie and I to move around in together, and we have a ton of cabinet and drawer space. We also have a pantry! It's so nice to have a pantry, though I'd really like to organize ours better. One of my favorite features of the kitchen is the deep sink. It's so, so wonderful.
BATHROOM
I love my bathroom. It's at least twice the size of my bathroom at my previous apartment and I have way more counter and cabinet space. It's really, really wonderful. Also, the tub makes my eyes turn into hearts. Bubble baths are my #1 form of self-care, and a deep, luxurious tub is something I haven't ever had. This tub is my everything.
WASHER/DRYER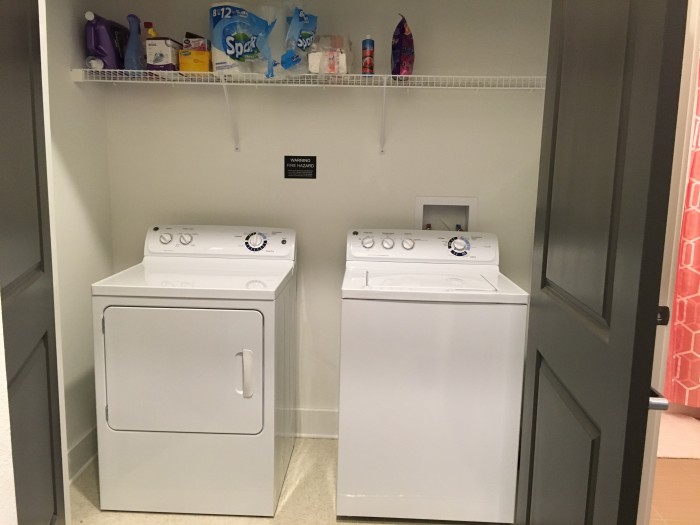 Between my bathroom and my bedroom is the washer/dryer. Having an in-unit washer/dryer was one of Roomie and my must-have's when we were apartment hunting. It just makes life so much easier to not have to deal with a communal laundry. And our washer/dryer is hidden behind a set of doors when not in use, which is also nice.
BEDROOM
Lastly, we have my bedroom! My bedroom is a nice size, especially for a guest bedroom, and I'm sure I could easily fit a queen-sized bed (mine is a full) and a bigger dresser in my room without it feeling too cramped. (I have plans to do so, so it's nice I will be able to!) I'm happy to have a walk-in closet, though I find the shelves to be a little awkwardly placed. I do wish I had more shelving options, but I could always add some if I wanted to.
And there you have it! A tour of my new apartment, a place I am so happy to call my home. There's still some more decorating to do, but I think we have a solid base and I'm so proud of this little home I've created with Roomie.
How would you describe your decorating style in three words?