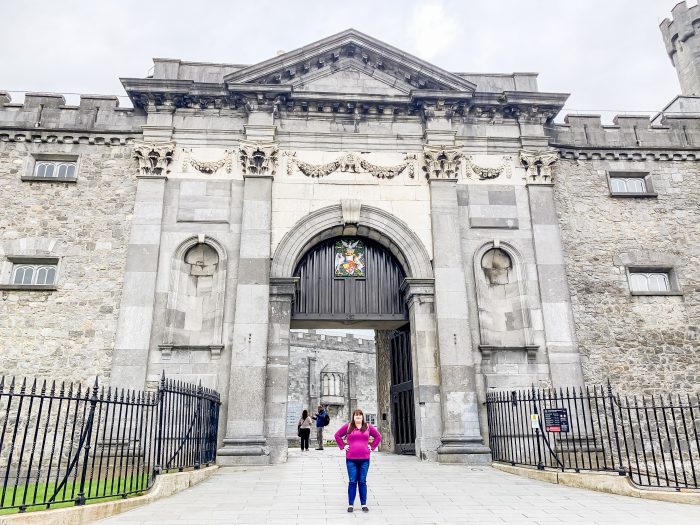 On Thursday, we woke up relatively early so we could get ready and pack up our things. We checked out of the hotel around 10am and then walked to the train station to catch the train that would take us to Kildare.
I don't think I mentioned the hotel we stayed at in Galway, but it was called the Park House Hotel and I would highly recommend it! It was a bit of a splurge (my mom has very specific tastes when it comes to hotels, ha, so we didn't stay in anything that wasn't four stars), but a really beautiful hotel in a great location (next to the train station and right across the street from Eyre Square).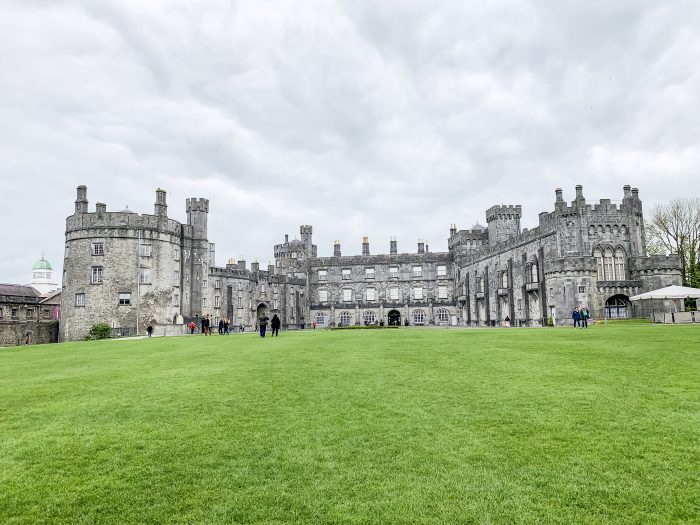 Once we're situated on the train, I open my Kindle to begin to read. And then hear this little mewing sound. I turn to my mom and say, "I know I miss my kitties a lot, but are you hearing the mewing sound, too?" Ha! I was hoping I wasn't going crazy, but nope – there was indeed a cat on the train. A woman who was flying back to the States after living for a year and a half in Galway had her cat with her! The cat softly mewed throughout the entire train ride, but it was sweet, not annoying.
It wasn't until we were nearing the time we were supposed to arrive in Kildare that I realized I had made a mistake. As in, the train had already stopped in Kildare and I hadn't been paying attention. I thought the train's final destination would be Kilare; it didn't even cross my mind that it would just be one of those quick stops in the middle of the passage. Instead, we wound up going all the way back to Dublin, and I felt like a real big idiot for not reading my train email closely enough. Ah, well. It happens!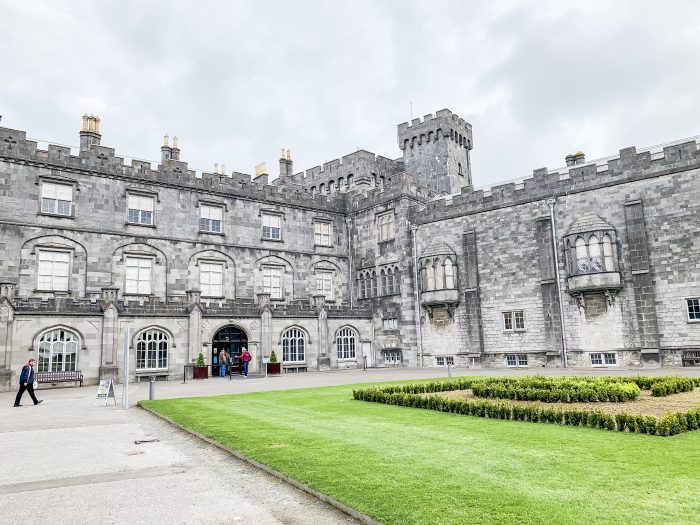 Thankfully, there was a train leaving for Kilkenny within 15 minutes of us arriving in Dublin, so we were able to purchase tickets and get on the right train. And we still arrived in Kilkenny at the same time we would have originally, so it wasn't too much of a big deal. (Just an expensive mistake, as we had to eat the cost of the ticket from Kildare to Kilkenny, and cough up €56 for the second ticket.)
We got to Kilkenny around 12:30 and when I looked at how far away our hotel was to the train station, I figured it would be easy enough to just walk there. It was maybe 3/4ths of a mile but boy oh boy, did that feel like walking a marathon, especially towing 40-lb suitcases up steep inclines while starving since my only food up until this point was half a chocolate muffin. I felt hot and clammy, shaky with hunger, and irritable – definitely the signs of a hypoglycemic episode.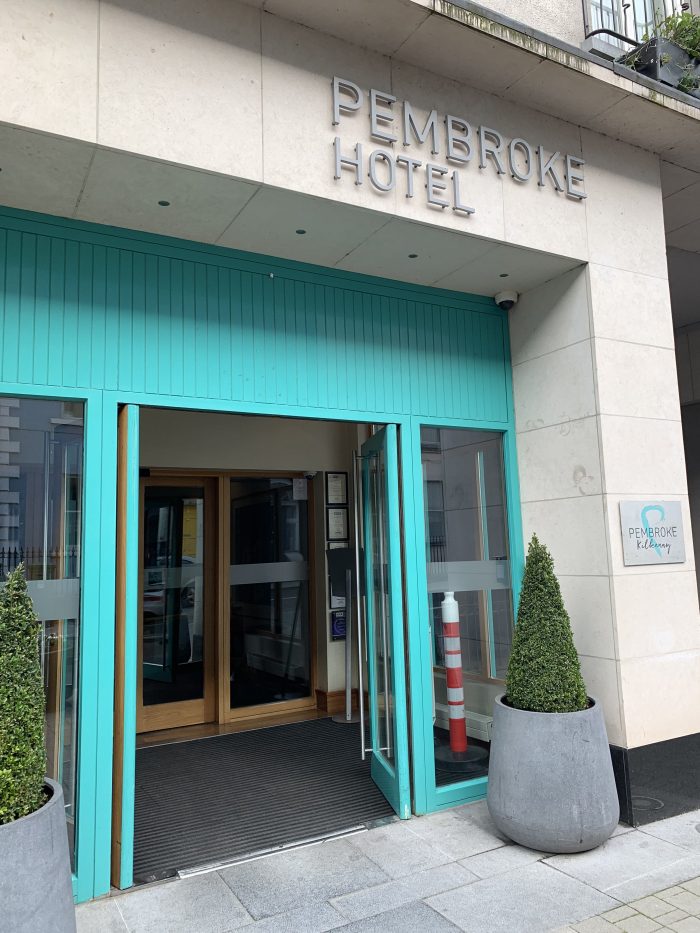 Eventually, though, we found the hotel and what a beautiful sight it was! In Kilkenny, we stayed at the Pembroke Hotel. This was another snazzy hotel, but it was actually pretty reasonable (we paid €117 for one night). Our room was beautiful with a gorgeous view of Kilkenny Castle in the distance.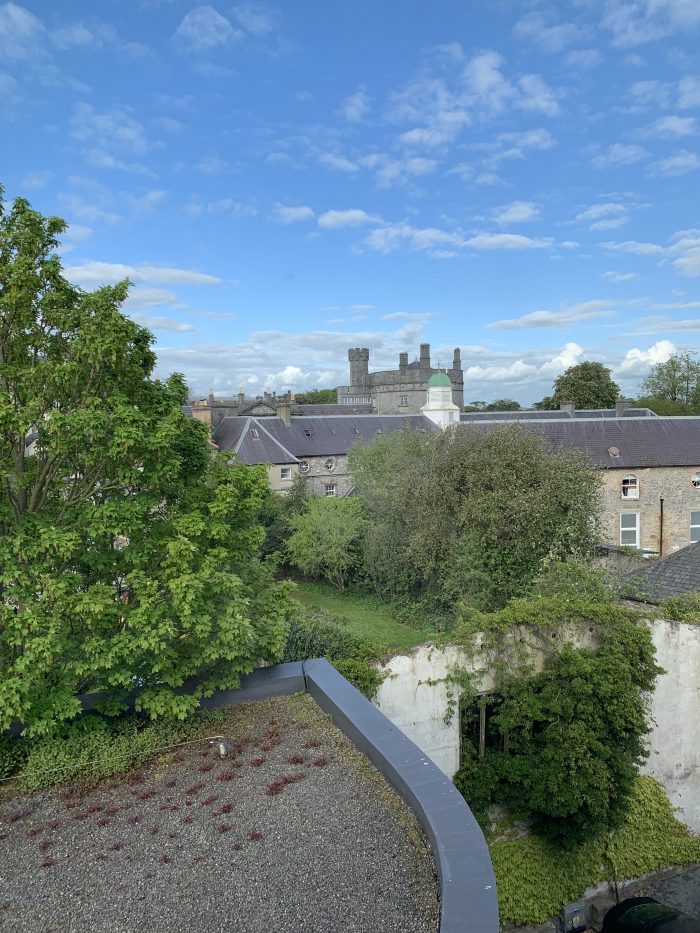 Our room, however, wasn't ready when we arrived so we dropped off our luggage at the front desk and then decided to eat a quick meal at the hotel bar. We just needed food at that moment – sustenance!
While we were at the hotel bar eating lunch, I encountered one of the most curious exchanges between what I assume is a boss and an employee. The boss was concerned that the employee hadn't taken a long enough break. I think she's given a 30-minute break and the employee came back after 20 minutes, and the boss told her, "You take your full 30 minutes. Take 40 minutes! But you only took 20 minutes today, and that's not a long enough break."
Y'all. Coming from a culture where employees are celebrated for working through lunch and skipping their breaks, this was pretty novel to me. We need more of this in our society.
Anyhow, our lunch was good! I ordered a chicken caesar wrap with fries, and it had a little too much dressing, but was otherwise very filling and really hit the spot for me.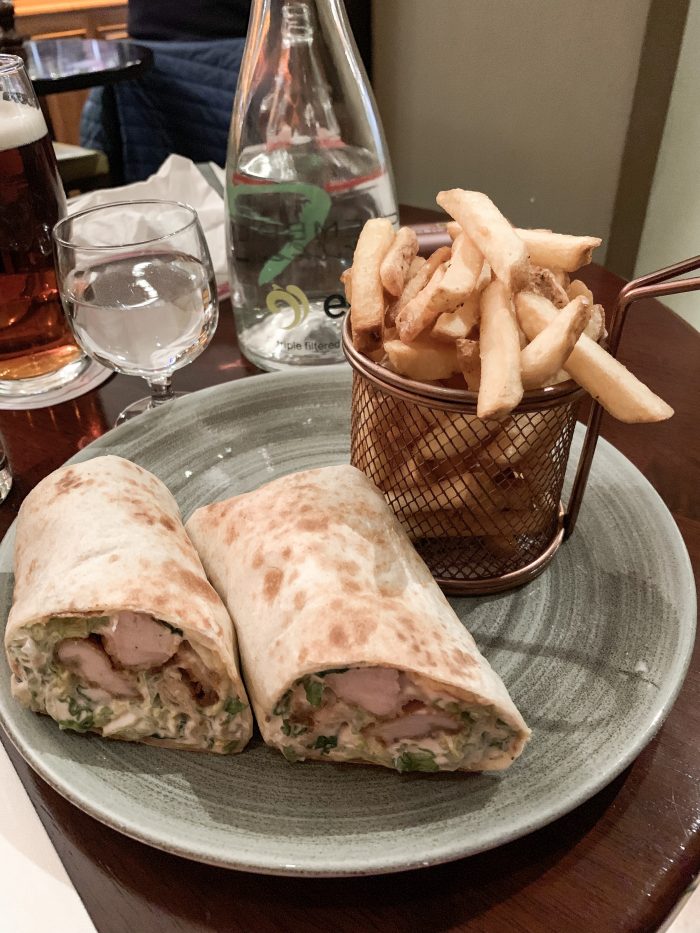 After eating, we visited Kilkenny Castle. It was amazing to come face-to-face with it – we just turned a corner and there it was! This centuries-old castle in the middle of town. We had to walk by a slew of vendors on our way to the castle and if it wasn't freezing (I think the temps were in the mid-40s that day), I would have loved to stop and have a bite to eat or look at their wares, but as it was, it was a little chilly for us! We had to keep moving!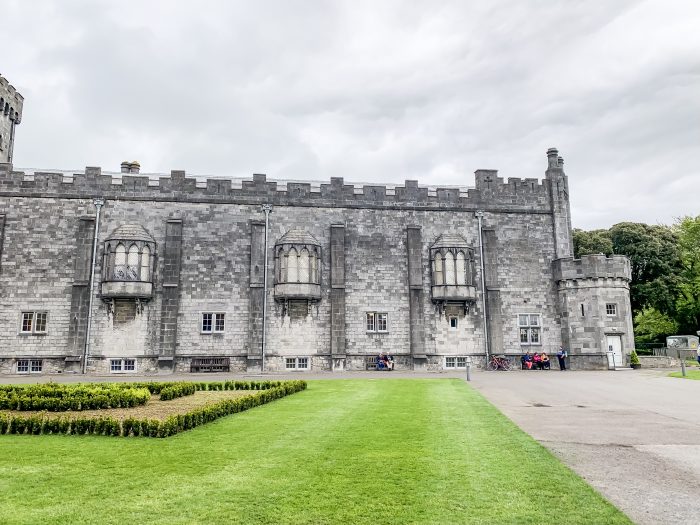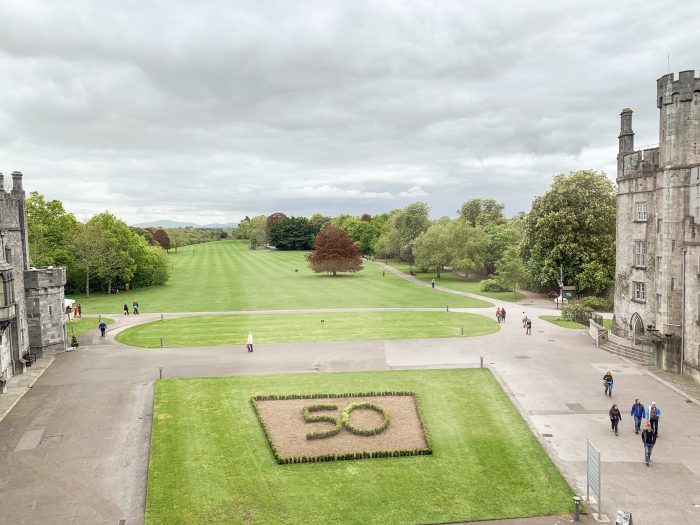 The castle was so beautiful and I'm glad we had plenty of time to walk around and take it all in. We started in the main courtyard, and I was blown away by the gardens, realizing that for Kilkenny residents, this is a place they can go for a walk anytime they want! One guy walked in with his dog, and his dog was just running around the grass, happy as can be.
Eventually, we made our way into the castle to tour the interior.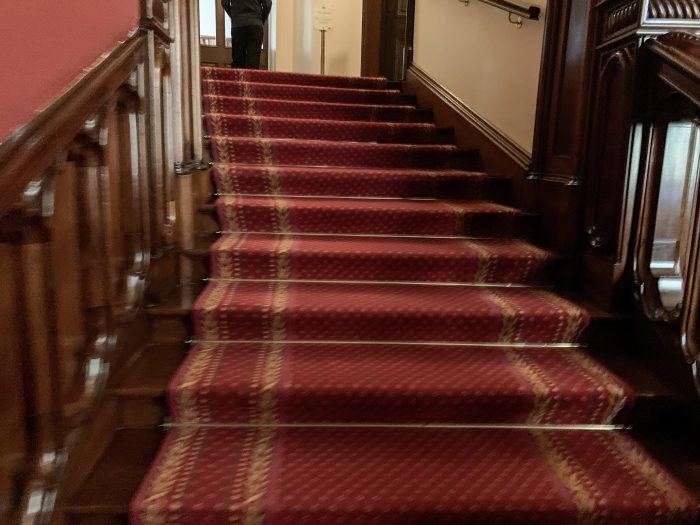 Kilkenny Castle was built in 1195 to control a fording-point of the River Nore. It was also a symbol of the Norman occupation and provided a defense point for the city due to its four large circular corner towers. In 1967, it was sold to the people of Kilkenny for €50 and is now managed by the Office of Public Works. (Thanks, Wikipedia!)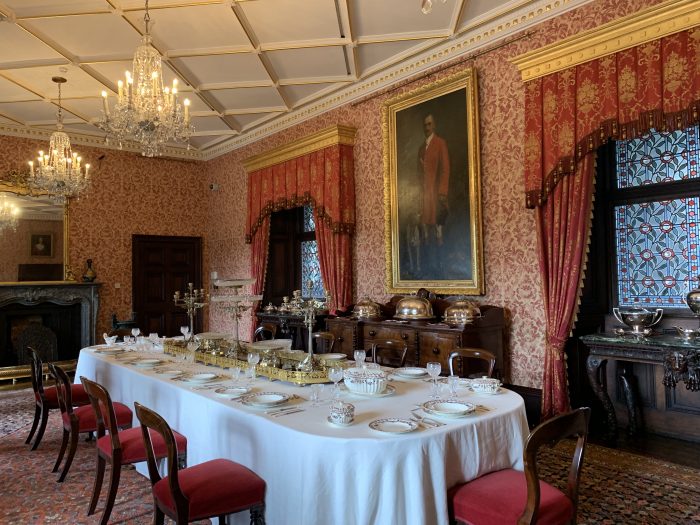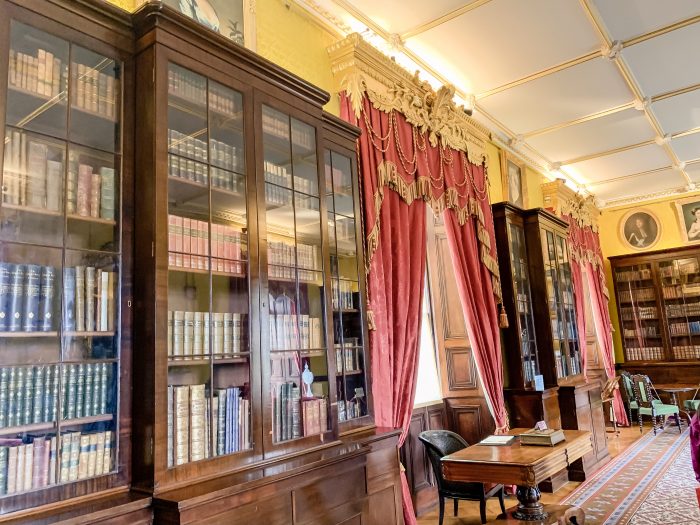 It was beautiful inside, most of the rooms decorated Victorian-style, as it looked in the 13th century when the castle was used as a method of defense. There was even a rendition of a water closet!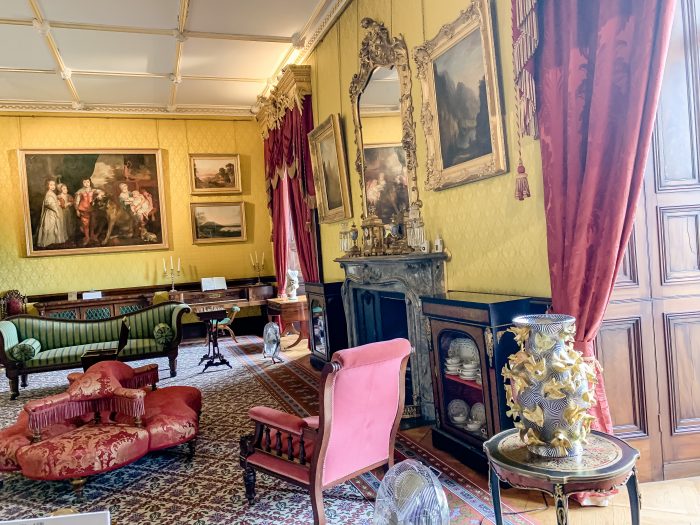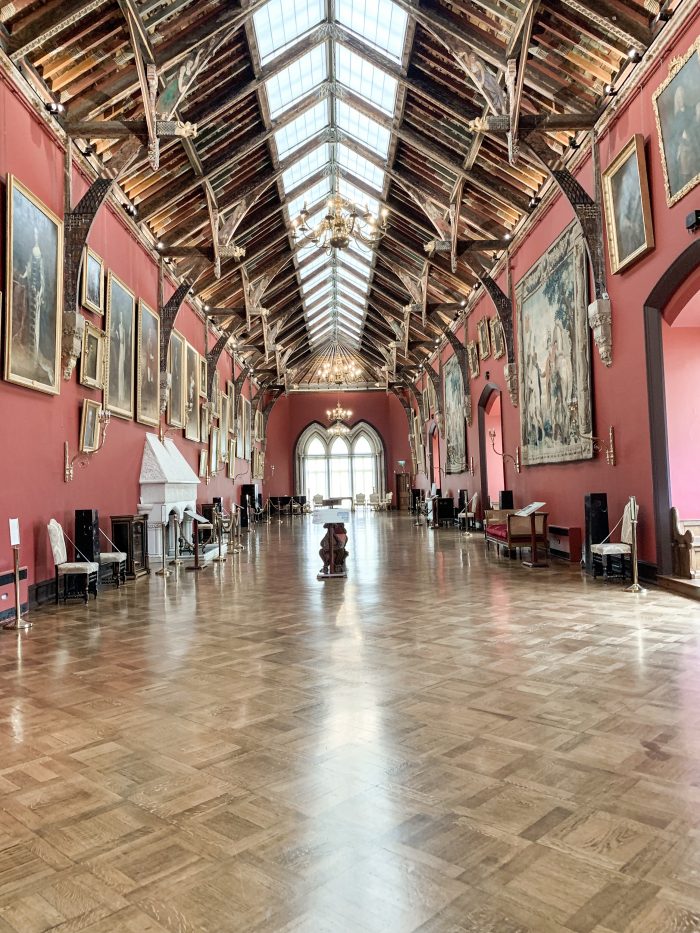 After touring the inside of the castle, we walked around the rose garden and then the rest of the grounds, taking it all in. It was all so beautiful, and such a gorgeous day to explore the castle! (We lucked out so much with the weather – no rain, aside from the short downpour on our way to the Cliffs!)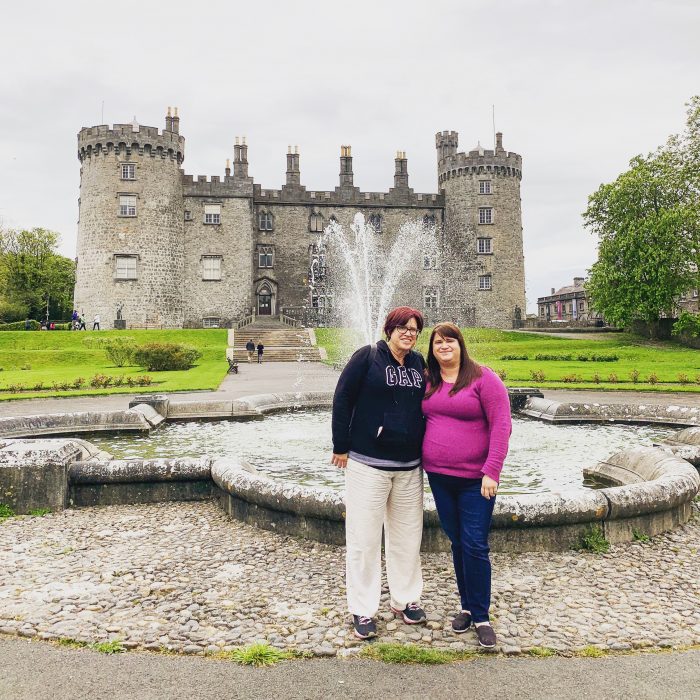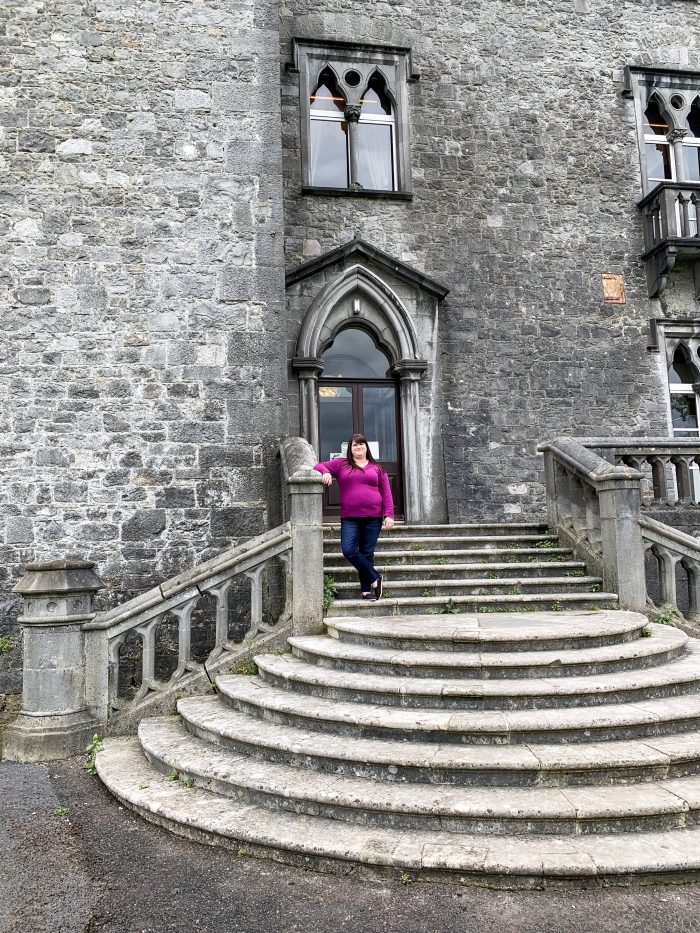 Next stop on our list was visiting Smithwick's to do their guided tour. I bought the tickets online before we left the States and we were able to get in for the 4pm tour, which gave us about an hour to walk around Kilkenny. I was feeling a little hungry at this point, so we stopped into the Black Cat Cafe (you know I had to have a bite to eat here since I have a black cat of my own!). The food was okay – my latte was a little bitter and the brownie wasn't anything to write home about, but it was nice to sit down and chill for a minute before going on our tour.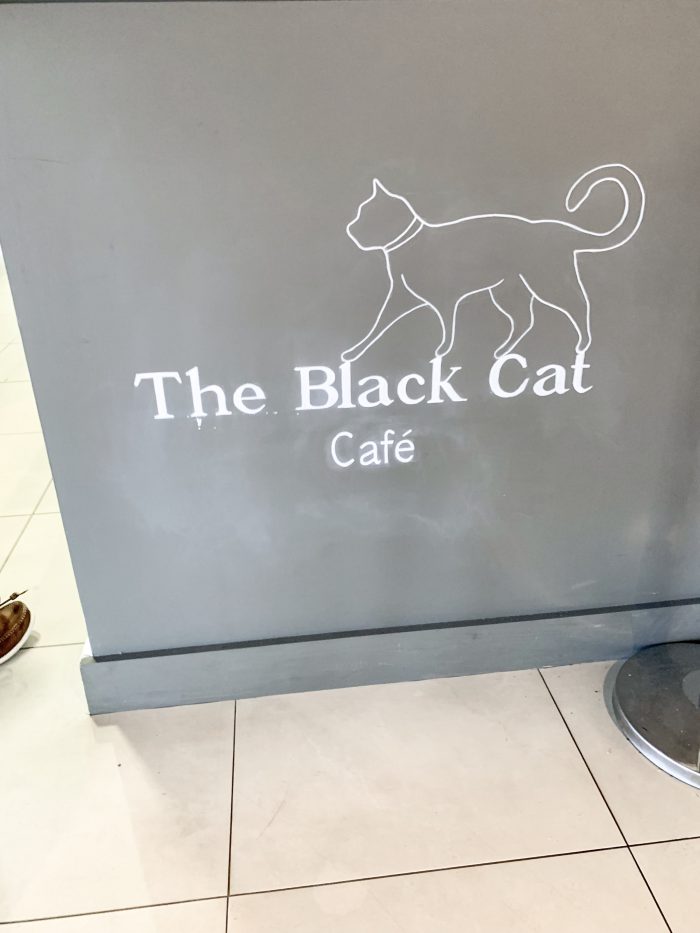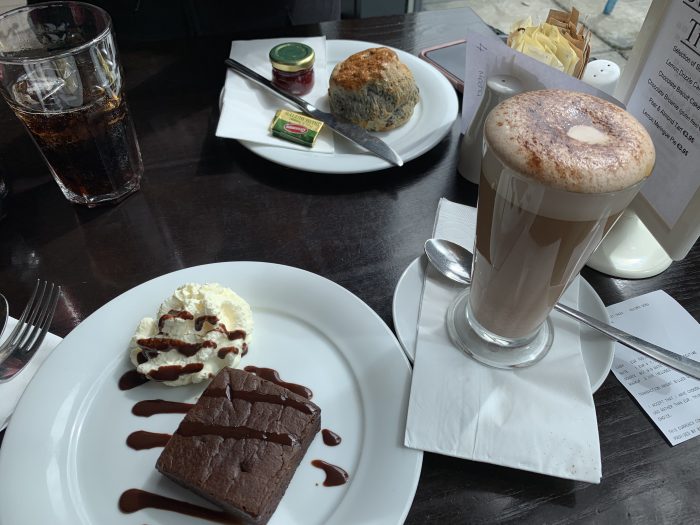 The tour of Smithwick's was really cool, and I'd highly recommend it! (We didn't do the guided tour of Guinness in Dublin, mostly because my mom doesn't like Guinness and the whole point of doing these tours is the beer at the end, right?! Plus, the Guinness tour is more expensive than Smithwick's – double the price! – so we definitely made the right call, I think.)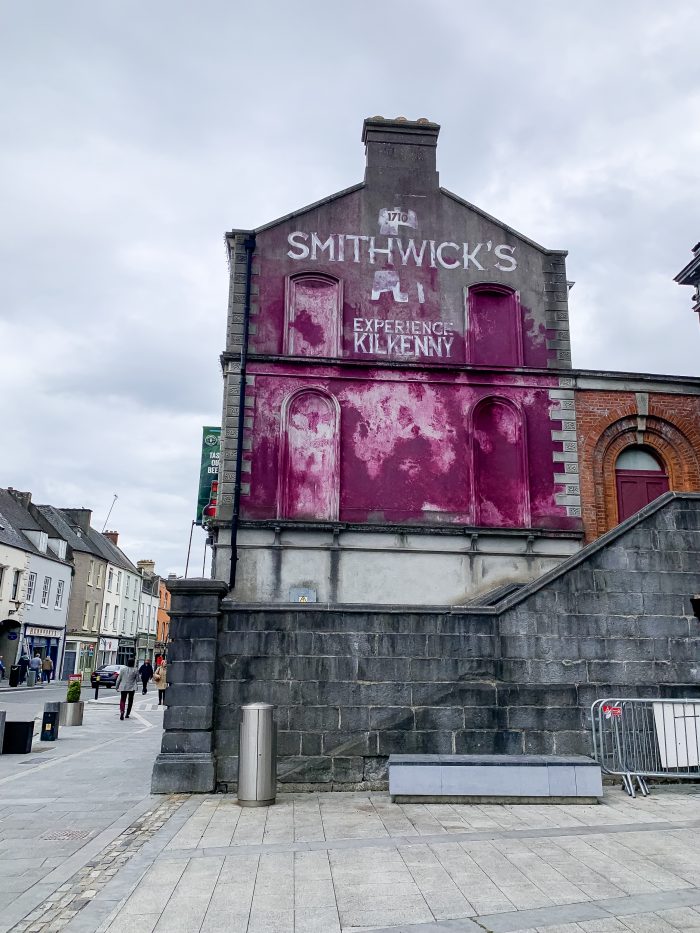 Our tour guide was this adorable Irish man, who gave me George/Fred Weasley vibes, even more so when he made a Harry Potter reference for one of the rooms we went into. I believe both his grandfather and his father worked in the brewery when it was a working brewery, so he definitely had deep roots in Smithwick's.
The location of Smithwick's was originally a Franciscan abbey where monks in the 14th century brewed ale. (I never knew monks were brewing ale centuries ago!) Eventually, the abbey was shut down and in 1710, John Smithwick founded Smithwick's on the ruins of the abbey.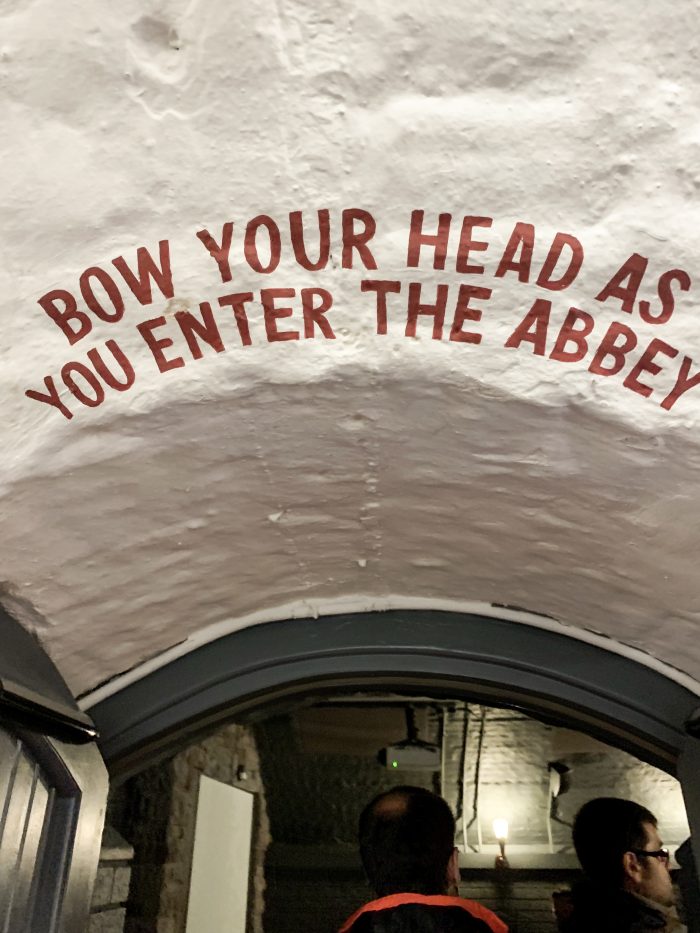 We learned how the brewery's ownership changed throughout the years but mostly stayed within the family. (This is where the Harry Potter reference came in, as we walked into a room that had talking pictures.)
Lastly, we learned about how the ale is produced, which is a super complicated process! It would have been cool to see an actual working brewery, but Smithwick's was acquired by Guinness in 1965 and in 2013, all production moved to Dublin. This location in Kilkenny is now just used for tours, but our tour guide said they are planning to return it to a working brewery in the next few years.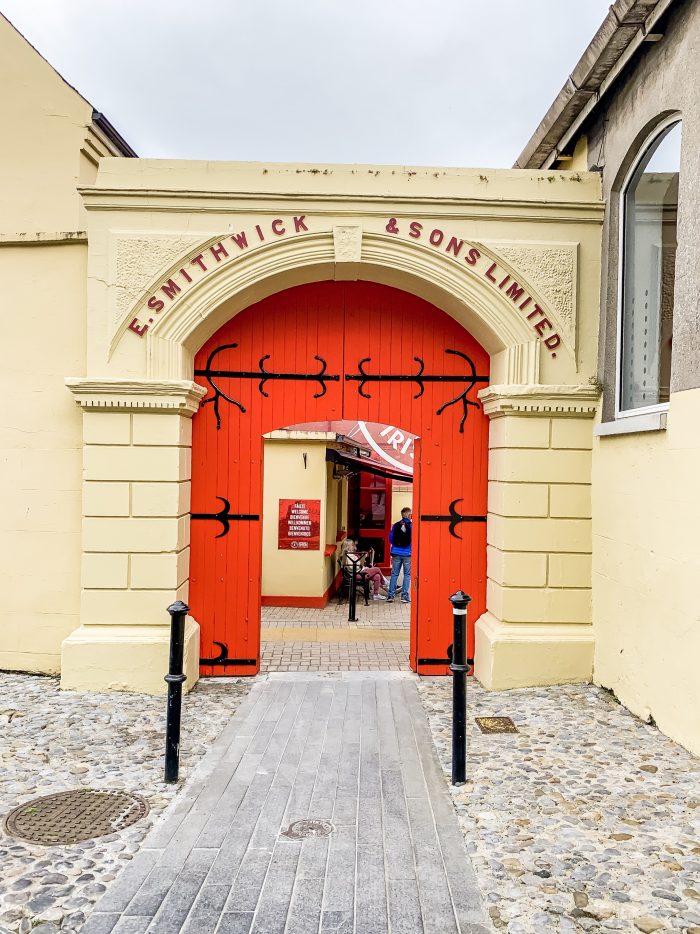 After the brewery tour, we got to try their ale! I am not a fan of beer, so I opted for a Coke while my mom got their blonde ale which she said was super delicious. (She even got it for dinner that night!)
We stayed for a bit and then started walking back to our hotel. It had been a busy day! But on our way back, I spotted a bookstore and we had to stop in for a peek at their collection. I ended up picking up another Sally Rooney book!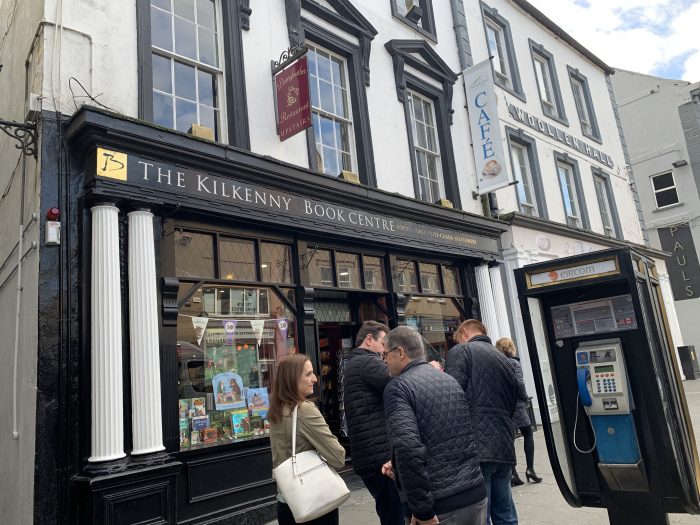 After that, it was finally back to the hotel to pick up our room key and relax for a bit before dinner. Just like in Galway, I had researched the restaurants within walking distance of our hotel and selected a few that seemed to be a good fit for our tastes. I gave my mom the list of restaurants and let her pick out the one she liked the most, which ended up being Paris Texas Bar and Restaurant.
The restaurant was a little overwhelming at first because when you entered, you walked straight into a pub-like space that had loud music and tons of people. But towards the back was a much quieter restaurant, which is always preferable for me.
I ordered a cider, and it was probably one of the tastiest ciders I've ever had (very fruity!). I ordered a burger with fries and a side of mac-and-cheese because, well, I just wanted some carbs on top of my carbs?! It was a great decision, though, because it was probably one of my favorite meals of the trip.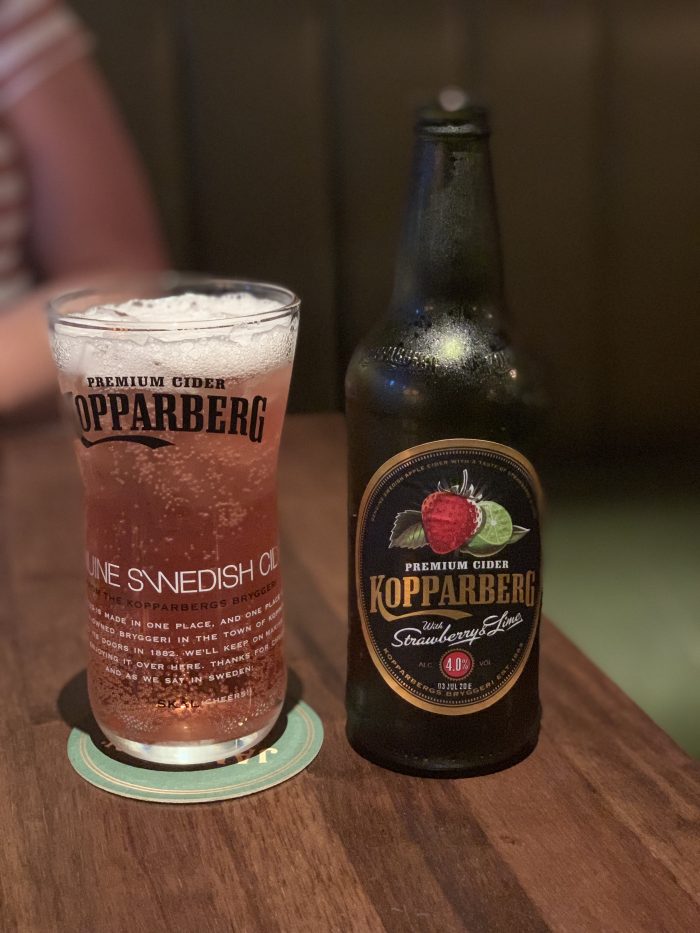 After dinner, we went back to the hotel where I enjoyed a very luxurious bubble bath. The bathtub itself was rather tiny (and this is coming from someone who's five-two and generally doesn't need a lot of space in a bathtub!) but it was still sooooo nice, especially for my feet which were getting a workout from all this walking!
I was also so, so excited to sleep in tomorrow because our train to Dublin didn't leave until noon. Sleeeeeep!