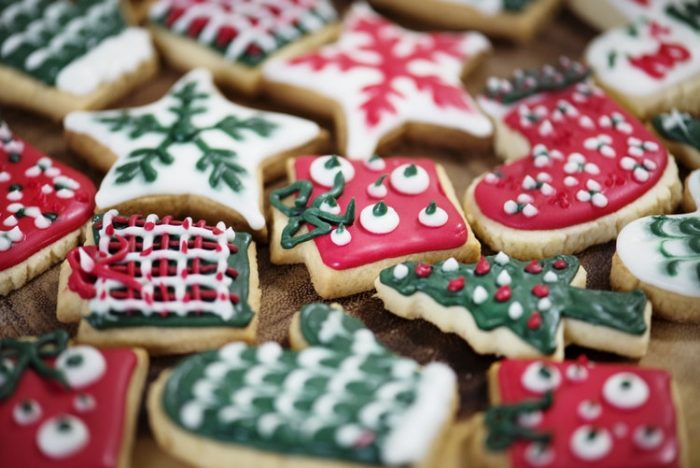 Happy Friday! I can't believe it's the weekend before Christmas. Honestly, this holiday season has felt both long and short. Since Thanksgiving fell early this year, we seemingly had an extra week of the holidays but that time went by fast.
The holiday season can be exciting, but it can also be hard. And for me, it's hard in ways that are difficult to talk about on a public blog. Suffice it to say, the holidays look so different from family to family, and there is no one right way to celebrate the season. And if you need to delete Instagram and Facebook from your phone for the next week because the barrage of family photos is too much, I totally, totally understand. (And I may end up doing the same!) I want everyone to take special care of themselves over these next few days and know you are not alone, even if it might feel you are.
However, I want to talk about the holiday season a bit! I don't have a ton of holiday traditions myself, but there are a few of them that mean the world to me, things I've cultivated over the past few years to make this season as meaningful as it can be. Let's take a look!
1) Decorating Christmas cookies with my family.
This is always one of my favorite holiday traditions, and it's something that my family has been doing for years and years. I have pictures of my brother and me sitting around our scuffed-up kitchen table, smiles on our faces as we hold up our horribly decorated Christmas cookies. (Please note: that above photo is not of any cookies we've ever decorated… or will ever decorate.)
Nowadays, my brother, my nephews, and I come to my mom's for cookie decorating. We cut out Christmas cookies using all of the cookie cutters my mom has collected through the years. The cookies are baked (and it never fails that at least one pan of cookies has to be thrown out because we placed them too close together and they've congealed into one massive cookie) and cooled, and then we get to work decorating. We're all terrible decorators, so there's a lot of trash talking involved as we laugh at some of our "masterpieces." And then, my mom sends us home with our own baggie full of cookies, which I munch on little by little throughout the next week.
We're planning our cookie decorating day for Sunday, and I am oh-so-excited.
2) Going all out with decorating.
Oh, how I love decorating my little apartment for Christmas. I have a fake tree because I cannot deal with the setup process of a real tree anymore, but I make sure to have a fir-scented candle going as often as possible to get a semblance of the Christmas tree scent in my home. I have colored lights and white lights, garland, a tree full of ornaments, Christmas knick-knacks, a countdown snowman, and even a tiny tree that I bought from Trader Joe's at the end of November. My home is usually pretty minimalist in terms of decor eleven months out of the year, but come the holiday season, I go all out.
I even decorate my desk at work! I have more lights, more garland, more Christmas knick-knacks to make my desk as festive as possible for the holiday season. (One year, I put up Christmas gel clings on the glass partition between my cubicle and the person next to me, but the residue took forever to remove, ha, so I haven't done that again.)
I just love decorating for Christmas because reading by the light of my Christmas tree or seeing my home so cozy makes me so damn happy. (Although, I'm usually equally happy to take everything down and restore my home to order by end of December.)
3) Celebrating on Christmas Day.
I'm always so intrigued about how people celebrate the actual holiday, as I know a number of families celebrate on Christmas Eve. We've never been a Christmas Eve-celebrating family. For awhile, my extended family got together on Christmas Eve night to exchange small gifts and just be together. In fact, I think the last Christmas my grandma was alive for, we all got together on Christmas Eve and that's a memory I cherish so much. We watched a Carrie Underwood performance together and I told her about a new guy I was seeing. It was really special. But that was the last time we did one of those gatherings. Now, I usually go out to dinner with my mom and stepdad.
Instead, we celebrate on Christmas Day. This year, my mom is hosting a small gathering at her place for my brother, his family, and me. We'll eat ham and turkey, open presents, and just hang out. We usually meet later in the afternoon, although I usually head to my mom's a bit earlier just to spend a little extra time with her and my stepdad. It's Christmas, after all. Who wants to spend it alone?
4) Annual Secret Santa gift exchange.
For the past few years, my girlfriends and I have done a Secret Santa gift exchange. We go to a delicious fondue restaurant, get all dressed up, and exchange gifts. It's honestly something I look forward to every year. I love how personal we can get with the gifts because we're only buying for one person and we can focus all of our energy on finding the perfect gifts for her. We also use this dinner to talk about all the fun times we've had throughout the year and plan events for the new year. Some of the things we want to do in 2019 is take a girls trip to Boston, go to a hibachi restaurant, volunteer, have some game nights, and go shuffleboarding.
5) Watching my favorite Christmas movies.
We all have our favorite Christmas movies, don't we? Every year, I try to watch my standards which include The Santa Clause, Elf, Love Actually, and National Lampoon's Christmas Vacation. I also try to throw in a "classic" Christmas movie I've never seen. I've still yet to watch A Christmas Story, It's a Wonderful Life, and Miracle on 34th Street! I need to watch one of those this year. But I just love watching a Christmas movie while wrapping presents or baking cookies. It's something that fills me with so much joy and happiness!
What are some of your current Christmas traditions?