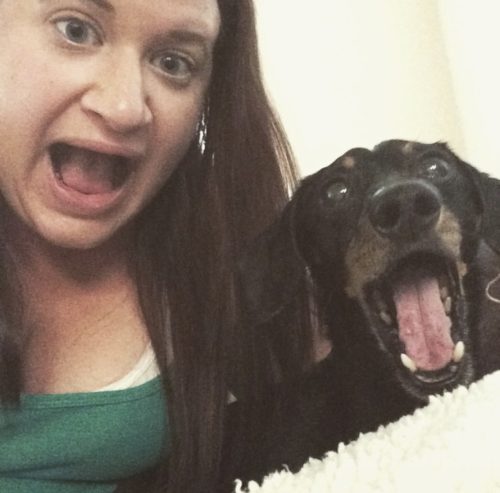 When I got the news from the vet, it wasn't unexpected but it still was shocking.
"His dementia is getting much worse."
"He's way more disoriented than I've ever seen him."
"He might be losing his quality of life."
It was a gut punch. I stood in an empty hallway in my office building, willing the tears back and trying to speak over the lump in my throat.
My very first thought was, "Am I selfishly keeping him alive because I don't want to live without him?"
But he's happy, isn't he? Mostly. Usually. Not always.
After receiving the news, I read every single article I could find about assessing a dog's quality of life. I took test after test to figure out if Dutch really didn't have a quality of life, but the results I got were mostly that he's not living his best life anymore, but he does still have a quality of life.
***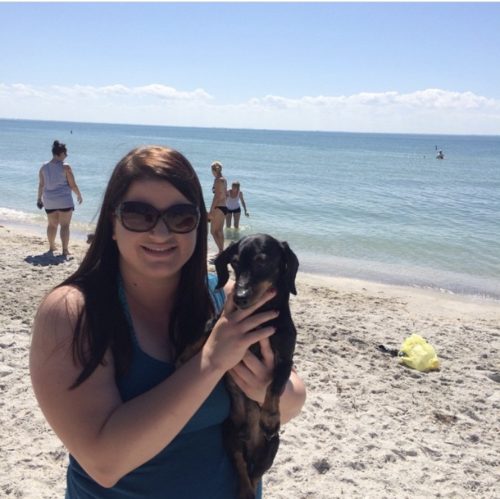 The truth is, I've noticed that Dutch has been slowly deteriorating. He's not the same dog he was even a year ago.
He's at 90% blindness now, and I have to guide him when we're on our walks, otherwise he'll run into curbs or walk right off sidewalks.
He can't go on long walks. Most of our walks are around 5-10 minutes, and he can usually only do the 10-minute walks in the middle of the day.
He's losing function of his hind legs. He can still use them, but I've noticed that he has a hard time stabilizing himself on wood floors because his hind legs aren't as strong as they used to be.
I've changed his diet to a wet food/dry food hybrid, and once he finishes up the bag of dry food I have, I think I'm going to switch him to solely wet food. Dry food is just too difficult for him to eat now (before I switched him over to the wet food a few weeks ago, he was eating half of what he normally ate and I usually had to hand-feed him just for him to eat that).
His dementia means he gets stuck in corners a lot (I can't even tell you how many times I've had to rescue him from behind my toilet) and spends a lot of time staring at the wall, sometimes barking at it and sometimes just sitting there. He also doesn't understand how doors work anymore – most dogs will rush out an open door, but Dutch just doesn't get it anymore (his blindness might have something to do with this, but it's also a symptom of dementia). Usually, I carry him outside, otherwise I have to drag him out the door.
His newest dementia symptom is circling. (Repetitive motion like this is linked to cognitive dysfunction.) He'll just stand in the middle of the living room and do these tiny circles around and around and around. He'll do it until he wears himself out, at which point he'll just go right to sleep on the floor.
***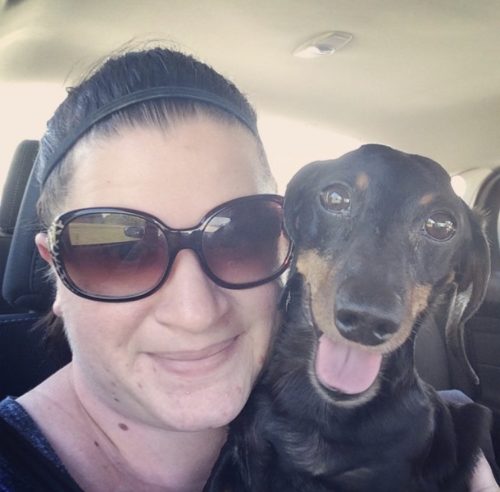 My mom took care of Dutch when I went on vacation to Asheville, and I was curious for her thoughts about what she thinks his quality of life is. While she takes him out for me at lunch during the weekdays and sees him at least once every weekend, this would be different. She would be able to see how he behaves at night and throughout the day. I was worried that I had become desensitized to Dutch's difficulties because I've been dealing with them for so long. Maybe his nighttime issues were much worse than I thought.
After the first night, she texted me, "Taking care of a dog with dementia is not for the weak."
Truer words were never spoken! Many owners who have a dog with dementia put them down way before they need to be because it is so very difficult to take care of these dogs. Dutch is truly a special needs dog now and he requires a lot of extra care, attention, and patience. (And believe me, I am not always patient with him, especially if he's been crying and barking for an hour when all I want is to go to sleep!)
When I got home from Asheville, I asked her what she thought about his quality of life. Just like me, she believes he still has a quality of life, although it's nowhere near the level it used to be.
***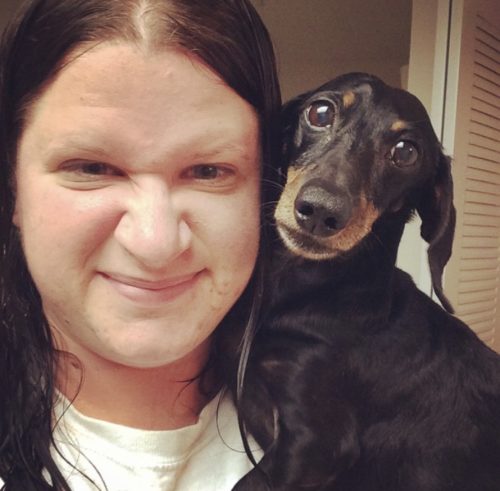 So, what does all of this mean for Dutch? The truth is, I don't really know.
I know that I love that little monster with my whole entire heart and I don't want to put him down just because he's a lot of work. That's not what it means to be a pet owner, in my opinion.
I know that he is happy when he's with me. He still recognizes who I am (we were worried about that because it's another symptom of dementia, but when I picked him up after being gone for four days, he got incredibly excited and couldn't stop whining and kissing me). He trusts me with his entire being and I don't take that for granted.
I know that he still enjoys his walks, even though they aren't long anymore, and he's eating and going the bathroom normally.
I also know, without a doubt, that I will know when it is time. Dutch and I are so connected to one another, he is such a part of me, that I don't think it will come as a surprise when it is time to let him go. And I don't feel like it is time yet. I think he still has some more fight left in him.
Do I think he's got years left? No, it's probably a matter of months, especially at the rate he's deteriorating. I'm hoping he'll live to see his "sweet 16" in early March.
I know that he has lived a long, happy, healthy life. Everything he's dealing with right now are just age-related problems that most dogs who live this long experience. And I want him to be as comfortable as possible during these last few months of his life.
He's been such a big part of my life for so long. It's hard to imagine living life without him. Every time I think about going home and him not being there, a piece of my heart cracks. For the past eight years, every time I come home, he's there. But the reality of our dogs is that they live short lives and we have to have the strength to let them go. I'm just hoping Dutch will give me some time to find that strength.