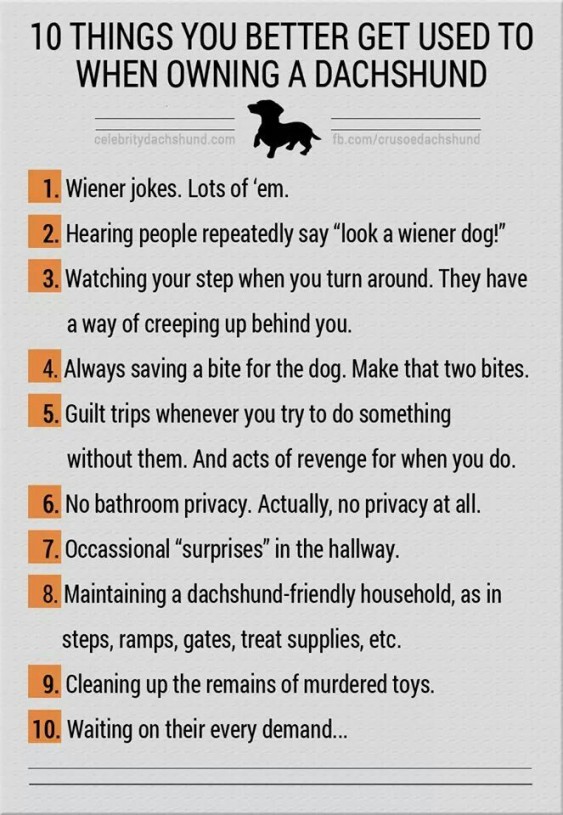 My good friend Nora sent me the above pin last week, and some of the "rules" made me laugh because they are so true. Like, #3. Dutch is constantly following me around and I can't count how many times I've accidentally kicked him in the ribs because he was just standing behind me when I turned around! Or #6, which is just something I've had to get used to. He always finds his way into my bathroom. Always.
There were a few dachshund rules missing, though. And, so, I thought I would add some rules of my own…
Rule #11: They are blanket hogs.
Dachshunds are burrowers by nature, so they love hiding under blankets. And Dutch has a very specific burrowing technique, where he basically pushes me to the side as he finds the perfect spot for him to lay. I've woken up in the middle of the night more than once to find out I have a tiny section of my comforter to myself, while Dutch has created a little fort for himself under my blanket.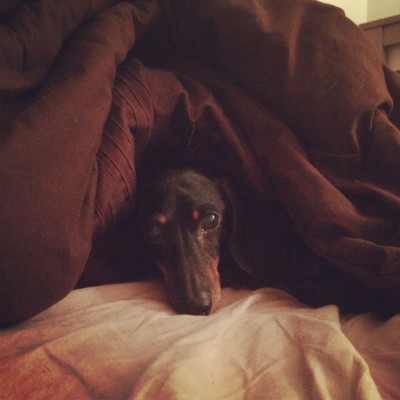 Rule #12: They can't control their licker.
Oh, yes, expect to be kissed and kissed frequently when you have a dachshund. My mom doesn't let Dutch kiss her much, but what can I say? I'm a big softie and I let him. My favorite is when I'm laying on the couch and he jumps up next to me, walks up to sit on my chest and lick my face. It's just a "Hi. I'm happy you're mine," kinda kiss. (Also, as a single gal, it's really the only "action" I'm getting…)
Rule #13: They are professional snugglers.
Dachshunds understand snuggling. Like to the extreme. It's very rare that I'm laying on the couch and Dutch isn't snuggled against my side. Or on my legs. Sometimes, I'll even lay him on my chest and he'll sleep there. (Because he isn't spoiled at all!) I adore snuggling with him, which is funny because I'm totally not a touchy-feely kinda girl. But there are few things in life that feel as sweet and good as Dutch snuggled against me.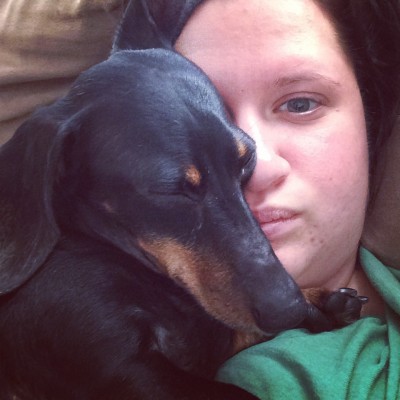 Rule #14: They can be stubborn little jerks.
I am a bit glad Dutch came into my life when he was seven and completely house-broken because I hear dachshunds are a pain to house-train, due to their stubborn nature. And Dutch, oh, Dutch is incredibly stubborn. His stubbornness really comes to life when we're taking a walk outside and he wants to go one way and I want to go another. He'll dig his feet into the ground, stiffen his body, and resist my tug on the leash. And unless I want to drag him (which no, hello animal abuse!) the way I want to go, he gets his way. I call him a jerk at least once a day during our walks because REALLY. It's ridiculous.
Rule #15: Their bark is worse than their bite.
Dachshunds are notorious for having really loud, deep barks. I read an article and the reason for this is due to their large lung size and barrel-like chest. It produces a bark that is much better suited for a large dog! I've had people hear Dutch bark before and then actually see him and say to me, "I did not expect that bark to come out of that body!"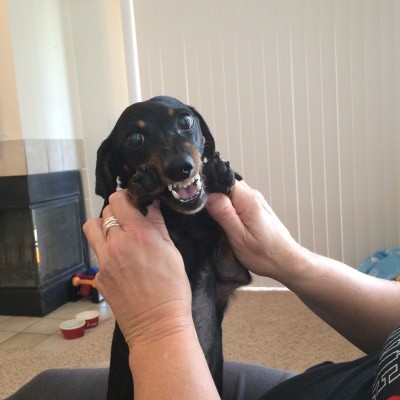 Rule #16: Dachshunds, especially smooth-haired, get intensely attached to a single person.
I know this is very, very true for Dutch. He is super attached to me. He follows me everywhere and sleeps with me every night. I often wonder what he'd do if I ever brought a boy home because he gets very jealous when other people try to hug me. Often, my mom will try to give me a hug when Dutch is next to me, and he'll yelp and growl and try to push his body between us. It's kinda hilarious, so we often play it up just to make him even more jealous.
It's been noted that dachshund owners are supremely loyal to the breed and I can attest to that. I honestly think I will continue to own dachshunds because they are just the best dogs. They are so much fun to have around, so adorable and so snuggly. Their personalities are just the greatest, and I love that little boy with every fiber of my being. He's so spoiled, but I wouldn't have it any other way. 🙂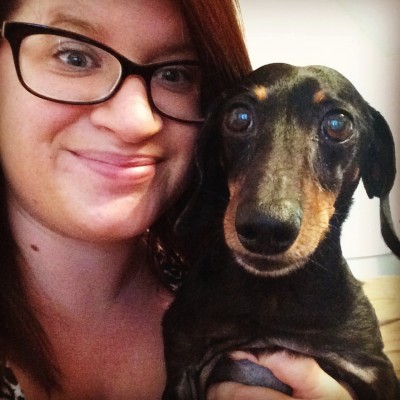 If you have a dog, what are some of his or her (or their!) personal quirks? If you don't have a pet, what are some of YOUR personal quirks?