8:30 AM // I wake up naturally and lay in bed reading until Dutch wakes up and lets me know he needs to go out and he needs to go now. We go on a morning walk and it's another beautiful day – in the low 60s and sunny. This weather feels so amazing. I want it to stay around forever.
9:07 AM // Once inside, I feed Dutch and then make coffee and eat a bowl of cereal. For the next hour or so, I just putter around the house. I finish yesterday's Week in the Life post and publish it. I also make my grocery list and set my football picks for the week.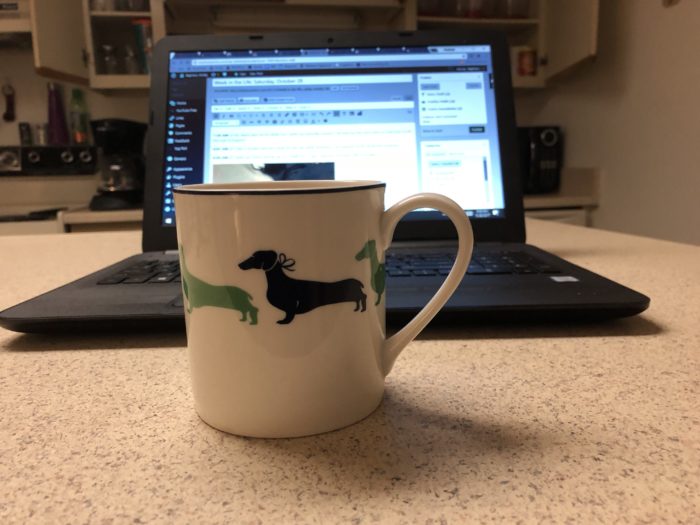 10:20 AM // I take a trip to Target to pick up some stuff for the apartment, but I get sidetracked by looking at winter clothes. It's actually not going to be too cold when I'm in Asheville (highs in the upper 60s/low 70s), but I have thin Florida skin, so I want to make sure I am ready for any temperature dips, haha. So I end up buying a cozy hoodie, a long-sleeved tee, and a sweater, along with a few toiletries and necessary cleaning items. My total comes to $125. Oops.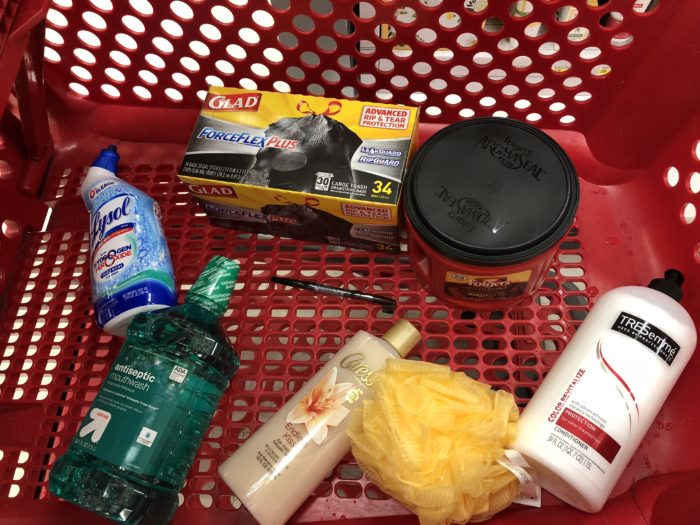 11:15 PM // I fill up my car with gas and then do my weekly grocery shopping at Publix. I don't need a ton of stuff this week, since I'll be having pizza leftovers for lunch and have dinner plans for three out of the five days.
12:05 PM // I get home and find that Dutch has had two accidents in the house while I'm gone. I probably should have taken him out before I left, since he ate breakfast, but it slipped my mind. Oh well. Thankfully, he did it on the hardwood, so it's easy to clean up! Then, I unpack my groceries and Target bags.
12:35 PM // I drive to my mom's with Dutch in tow!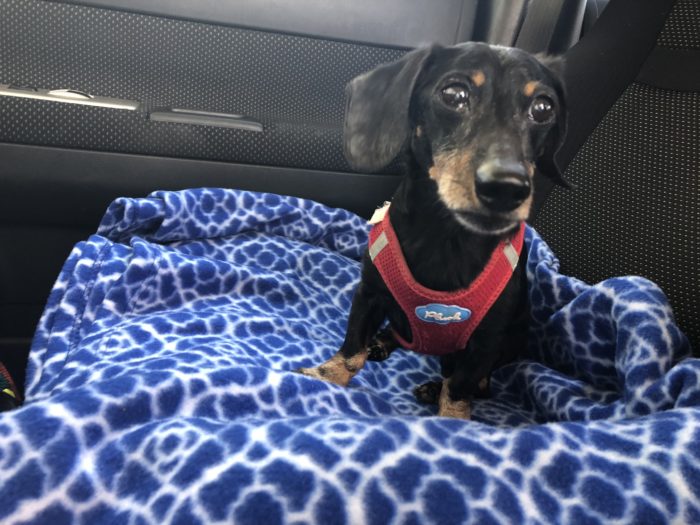 12:50 PM // I arrive at my mom's and find a parking spot and then slowly walk with Dutch to her apartment. Dutch is very, very slow on these walks because he has to sniff everything! It takes us about 8 minutes to walk the 100 steps into her apartment.
1:00 PM // Time for football! My brother is here, so my mom, my brother, and I all settle in for a few hours of sitting back and watching some football! It's a lovely afternoon with just the three of us. (Sometimes, my older nephew joins us, but he had a playdate planned this afternoon.)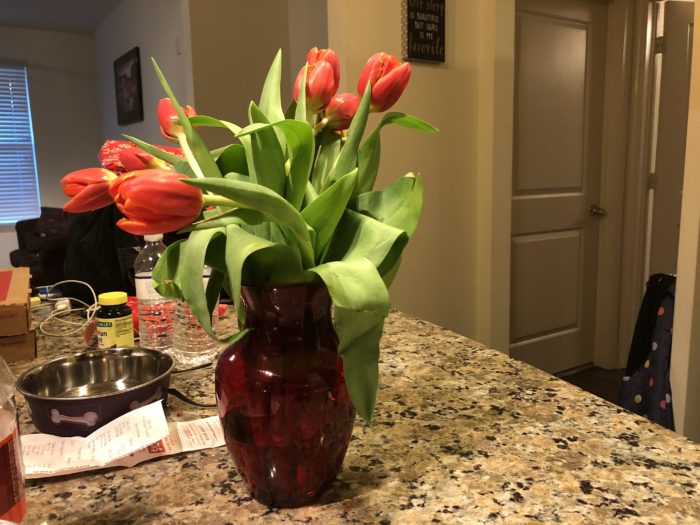 5:00 PM // We order pizza and my mom bakes pumpkin snickerdoodle cookies as our treat for the late afternoon game.
7:15 PM // After a long day of watching football, Dutch and I head home. It's perfectly chilly outside – 61 degrees – and feels like "football weather," as my brother and I call it.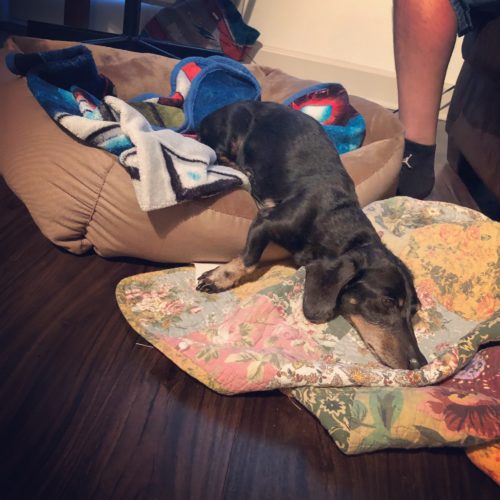 7:30 PM // We're home and I give Dutch his nightly meds right away. Here's hoping this helps him settle down quickly tonight!
7:40 PM // Time for a hot, relaxing bubble bath and reading time. So, so lovely.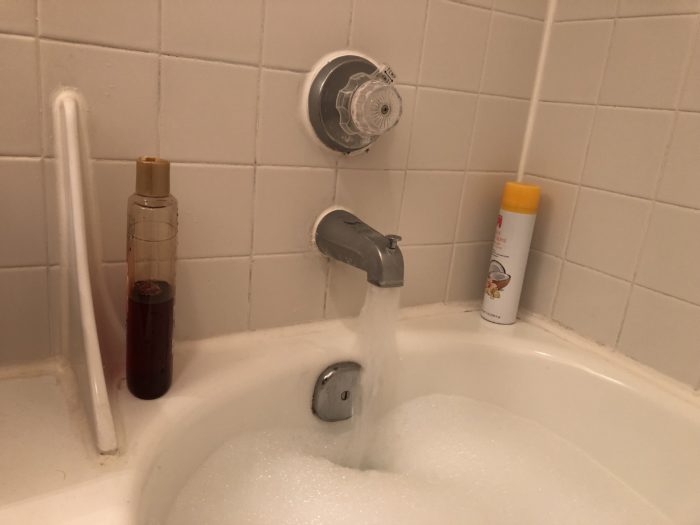 8:00 PM // I get into my jammies, turn on Sunday Night Football, and settle in for some more football watching. While the game plays, I also try to take care of some tasks, like working on this post, sweeping and mopping my floors, and washing my rugs (Dutch had an accident on one of my rugs today, so into the wash it goes!).
9:30 PM // Dutch is getting antsy, so I bring him to bed and rub his neck until he falls asleep.
10:00 PM // I leave Dutch sleeping on my bed and go into the living room to continue watching the game. And not five minutes later, I hear Dutch whining again, so I go back into my bedroom to lay on the bed and rub his back until he falls back asleep.
10:20 PM // I leave Dutch sleeping on my bed and hope the second time's the charm. I go into the living room to watch the football game, but I'm pretty tired at this point, so I decide to shut the game off halfway through the third quarter, do my nightly routine, and then read for a bit.
11:00 PM // Lights out!
And that's another Week in the Life in the books! I've had so much fun taking you guys along throughout my days and hope it's been fun to read about. I can't wait to do it again.
Sunday a year ago, two years ago, three years ago