This week I'm bringing you daily snapshots of my life in my third annual Week in the Life series. Check out Monday, Tuesday, and Wednesday.
Thursday was an okay day for me. When I woke up, I felt pretty good, much better than I felt Tuesday or Wednesday, but I gradually felt worse and worse as the day went on. Ah, colds! They are no fun!
It's so weird to document a time when I'm feeling under the weather. I rarely get sick, so this is not the norm for me. I have a standing Thursday night date with Roomie that I had to cancel because I could barely keep my eyes open at work and all I wanted to do was come home and fall right into bed.
Anyway, this is Thursday!
5:15am // First alarm goes off.
5:30am // Second alarm goes off and I am up and at 'em. Feeling much better today than I have felt for the past two days, so hoping and praying this means I'm on the tail end of my sickness! Woohoo! I take a shower, take Dutch out, feed him, and then get ready for the day while listening to an episode of Dear Sugar Radio.
6:45am // Commute to work.
7:05am // I make a pit stop at Starbucks for a breakfast sandwich and a peppermint mocha. Totally necessary.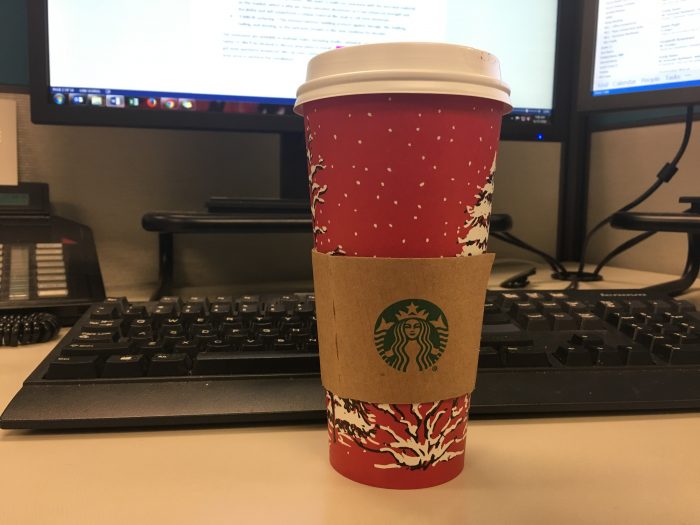 7:20am // I get to work and chat with Roomie for a bit when she stops by my cubicle to check in on me.
7:45am // I begin my first task of the day: editing the pages I wrote yesterday so I can send them to my proofing partner.
9:00am // I send off my pages and then edit a small batch of pages a coworker sent me yesterday.
9:20am // Once I finish editing, I start my big task for the day: writing 8 pages of content for one of my clients. Once I finish this, then my writing for the month of November will be complete! Yay!
11:00am // I take a break to go downstairs and make a call to Visionworks. So, here's the long story: at my appointment on Friday, they gave me trial contacts, but one of the contacts wasn't the power I needed. I thought the receptionist told me it was the left eye that was incorrect. So, yesterday, Visionworks told me my correct prescription was in, so I went in and picked it up. This morning, I put that new contact in my left eye and everything was super, super blurry. So, I called Visionworks to find out which eye that contact was for: it was for my right eye, not my left. Sigh. So that's a huge snafu, but luckily, I'm going in for a followup appointment tomorrow and hopefully we can get this straightened out.
11:20am // Back to my desk and back to writing.
12:00pm // It's time for our Thanksgiving potluck! We have lots of good food and good desserts. I chit-chat with my coworkers while chowing down.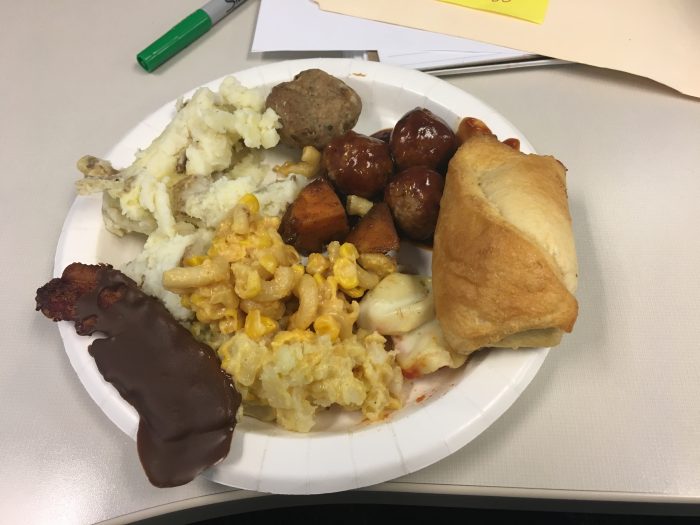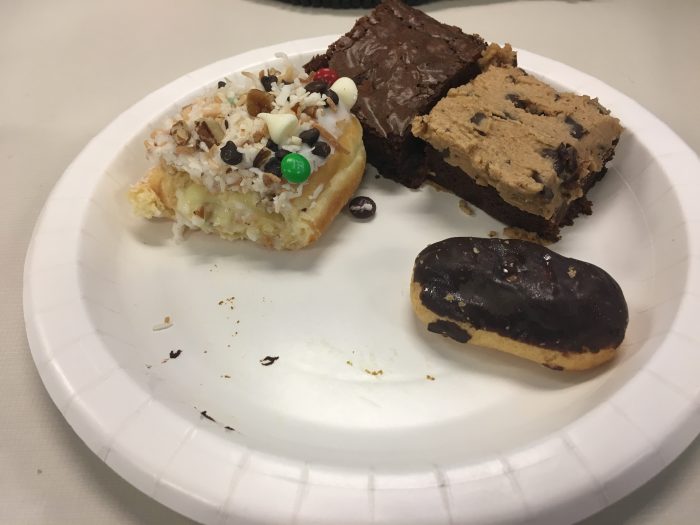 1:00pm // Back to work and back to writing! I am hoping to finish off this set of pages so I can send it to my proofing partner before the end of the day. (But oh! I am tired. So tired. Post-potluck crashing has started sooner than I expected.)
3:10pm // I'm finished with my pages, hooray! I send these pages to my proofing partner and then, noticing one of my websites has launched, I get to work doing the last few post-launch tasks that I'm in charge of, since I'm the writing launch coordinator for this website.
3:45pm // I go through the edits I've received on some of my pages and send one set to a client for approval.
4:45pm // I realize I have not yet gotten my manager's feedback on a homepage that is on deadline. I rush around trying to find her, but I can't and after a half-hour, I give up.
5:15pm // Commute home while listening to Christmas music, because I'm too tired to focus on a podcast.
6:10pm // Traffic was an absolute nightmare. Who knew leaving 15 minutes later than normal would double my commute time? I'm not making that mistake again! Once I'm home, I get the mail, take Dutch out, feed him, and then slip into a luxurious bubble bath. Ahhhh.
6:45pm // I heat up chicken noodle soup, watch an episode of Parks and Rec, and start working on this post.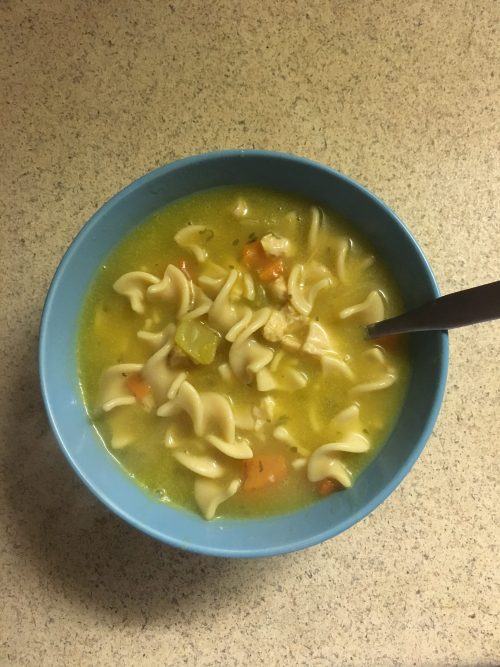 7:30pm // I take Dutch out, clean up the kitchen, finish up this post, and then snuggle into bed with Dutch and my book. I'm probably going to be asleep before 8:30 and I don't even care. I really hope I start feeling better tomorrow.
Tell me something good that happened to you yesterday!