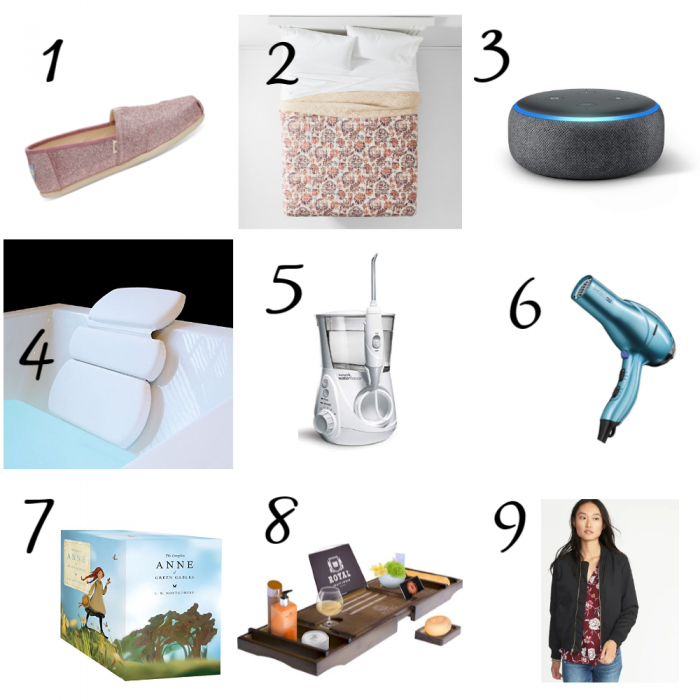 Can you believe it? There are six days left until Christmas! All of my holiday shopping is done, the presents are wrapped, and the holiday parties are over. All that's left is to decorate Christmas cookies with my family, watch all of the Christmas movies, and enjoy reading in front of my twinkling Christmas tree every evening. Yay!
Every year, I like to make a Christmas wish list post. In my family, we're big about gifts because there's just something sweet about finding the perfect present for your family members and anticipating what they will get you. Christmas is about togetherness, of course, but there's nothing wrong with writing out wish lists and wondering what will be waiting for you under the tree this year. We make it easy, sending out lists in mid to late November so that there are no stressful guessing games. I wasn't even sure what I was going to ask for this year because, honestly, I'm in a stage of my life where I can buy most of the things I want. But, alas, I managed to come up with a list for my family and here are some of the things I included:
1. TOMS ($60). I love my TOMS. I have very weird feet and can't wear flip-flops or sandals if I'm planning on walking or standing a lot. They just don't give my feet the structure they need, so my arches start aching and the balls of my feet start burning. TOMS are different. They perfectly support my feet, and if I know I'm going somewhere where there will be a lot of walking or standing around, I wear my TOMS. I've had my current pair for a few years now, so it's time for an upgrade. I put a regular black pair and a pink sparkly pair on my wish list this year.
2. A quilt ($70). I don't think you want to know how long I've had my current quilt, but I'm going to tell you anyway: five years. I love this quilt. I actually bought a comforter when I moved in 2015 and within just a few weeks, I was back to using my quilt. I don't know what it is about it, but it is just so comfy and I love wrapping myself up in it right before falling asleep. I keep my apartment cold (I can't fall asleep unless it's 73 degrees or colder in my apartment), so I need a cozy quilt to keep me warm. Anyway, it's time to upgrade my quilt and this one is so colorful and fun!
3. Echo Dot ($50). Do I need an Echo Dot? Should I be concerned about Alexa listening to all of my conversations?  I don't know, but I added this to my Christmas list because I wanted to find out what all the fuss is about.
4. Spa bath pillow ($22). I take a bubble bath on a near nightly basis, but it's usually as low-key as possible. I just use body wash as my "bubbles," there are no candles or glasses of wine nearby. And I think it's time to upgrade my bubble bath experience. I put this bath pillow on my list because I'd really love a more comfortable way to lean back in the tub. I bought a pillow a year or so ago, but it didn't suction to my tub at all and I was so disappointed that I gave up on bath pillows altogether. Maybe second time's the charm?
5. Waterpik water flosser ($60). This is probably the most boring item on my Christmas wish list and younger Stephany is appalled. But I really want a water flosser! Sure, I can handle the whole manual flossing routine, but using a water flosser is way more effective. And with that, I'll see myself out.
6. INFINITIPRO by Conair hair dryer ($35). I've had my current hair dryer for a few years now, and it's nearing the time when it needs to be replaced. I'm lucky in that I don't need anything super fancy when it comes to drying my hair, although I typically need to swipe my straightener through my hair after drying it to smooth it out. This option seems like a nice upgrade from what I'm using now.
7. The complete set of Anne of Green Gables ($85). One of my goals in 2019 is to reread the Anne of Green Gables series. I read it when I was in high school and loved it, and have grown interested in rereading lately. (It's so beloved by Bookstagram, which makes me want to revisit the series!) This boxed set is pricey, for sure, but includes all eight books with beautiful covers.
8. Bathtub caddy tray ($50). Like I mentioned earlier, it's time to upgrade my bubble bath situation. First, with a bath pillow and second with a tray so I can have a place to prop up my book, keep my phone handy, and even enjoy a beverage while I'm relaxing.
9. Bomber jacket ($55). I have been on the hunt for a lightweight jacket for a while now, and I can never find anything that fits well or makes me feel good. I found this one from Old Navy when I was putting together my Christmas wish list for my family and I kinda love it. It looks like the perfect jacket to pull on for those days when the temps dip below 60 degrees. (OK, fine, 65. I'm a baby when it comes to winter, okay?!)
What's on your wish list this year?