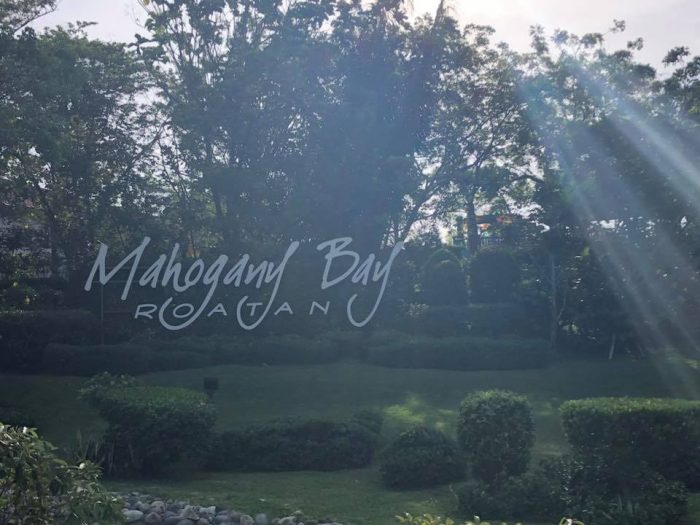 Day 5 of our cruise was my moment of truth. It was the moment I had been worrying about for weeks and the anxiety came on strong that morning.
It was the day we would be zip-lining in Honduras, but more than that, we would be doing the first-ever forward-facing zip-line. To say I was nervous would be an understatement.
I had a real bad feeling about the day, but when you have anxiety, that usually means absolutely nothing. I had to remind myself, "Steph, you sometimes have a 'bad feeling' when driving to work. You can't trust your bad feelings." And I knew I couldn't. I have bad feelings all the damn time, and nothing ever comes true. It's just who I am as a person and I'm learning to accept it about me.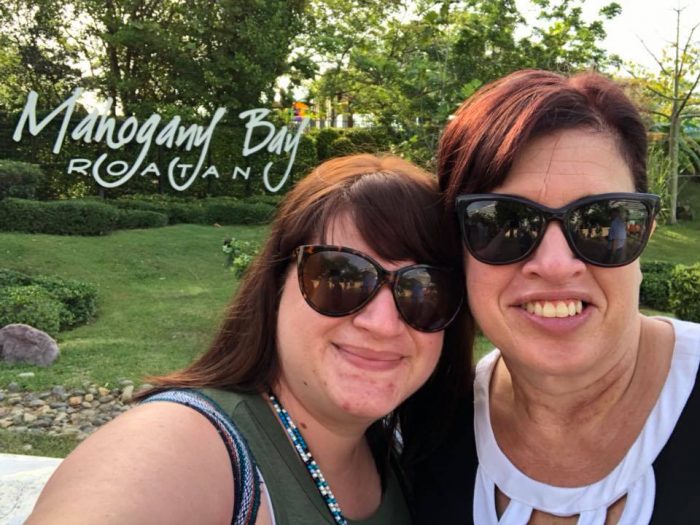 So, stomach churning, I got ready for the day in our cabin. We went to the lido deck for breakfast, and then got off the ship and into Isla Roatan, an island off the northern coast of Honduras. We met up with our tour group and I started feeling a little bit better about the excursion, mostly because there were young kids in our group (the youngest was probably 8!) and because some of the other people mentioned that they were a little scared about the forward-facing zip-line. Whew… glad it's not just me!
We made our way onto the bus that would take us to South Shore Zip-Line Adventures, where we would enjoy our excursion. It was a 45-minute drive to the park, but it went by fast as our tour guide told us all about life in Honduras. Some interesting facts:
Honduras has two official languages: English and Spanish
The last hurricane to hit the area was 1998. Hurricane Mitch came wailing onto the island, leaving a path of destruction in its wake. As if that wasn't terrible enough, the hurricane went back into the ocean, gained strength, and hit the island for a second time. Can. You. Even. Imagine. It killed 7,000 people in Honduras alone. I dearly hope hurricanes stay out of their path from here on out.
High school students take classes in shifts: 7AM-12PM, 12:30PM-5:30PM, or 6PM-11PM. This was super interesting to me, and it made me wonder which shift I would want if I was a student in Honduras. Probably the first one!
Once we got to the park, we were told we could rent a locker for $5 to put our belongings for safekeeping. I opted to also leave my phone in my bag because I was too nervous about dropping it, which means I don't have any photos of the forward-facing zip-line.
Anyway, we were suited up for this zip-line, which they adorably call the "Zuperman" because of the fact that you're basically flying in the air like Superman when you take off. (Superman + zip-line = Zuperman!) It was basically like a full-body harness that allowed the guides to clip you in at various spots: your upper back, lower back, and around your legs.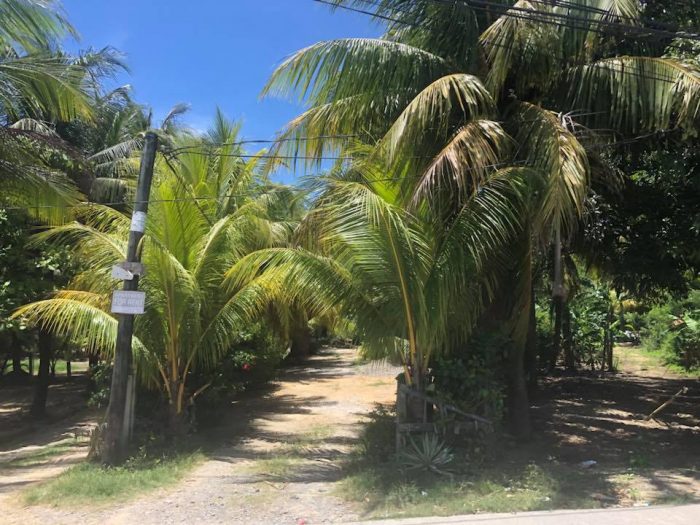 My mom and I were last in the group to go, which means we got to see everyone else do it! That was really helpful for my nerves because I got to see everyone else make it to the next platform without dying! 😉
We got clipped into the harness and then off we went! And, guys, it was incredible. It's so hard to describe how amazing it felt to fly through the air like this. And I think it was because of all the worrying I did beforehand that it felt even more awesome. Like, I had conquered this major fear and punched my anxiety in the teeth. It's just another example I can turn to when my anxiety wants to rear its ugly head and tell me not to do something.
They have two Zuperman zip-lines at South Shore, so it was fun to get to do it again! This time around, I wasn't nervous at all… just incredibly excited to fly through the air for a second time. (Honestly, I wish I could have done another round of the Zuperman's! They were just way too much fun.)
Once we were done with the Zuperman zip-lines, we boarded a bus and headed back to the top of the park where they took off our full-body harnesses and put on a regular zip-lining harness. This was my fifth time zip-lining, so I kinda felt like an old pro at it! We had to wait for another group to head out before we started, so there was some time and sit around and take pictures.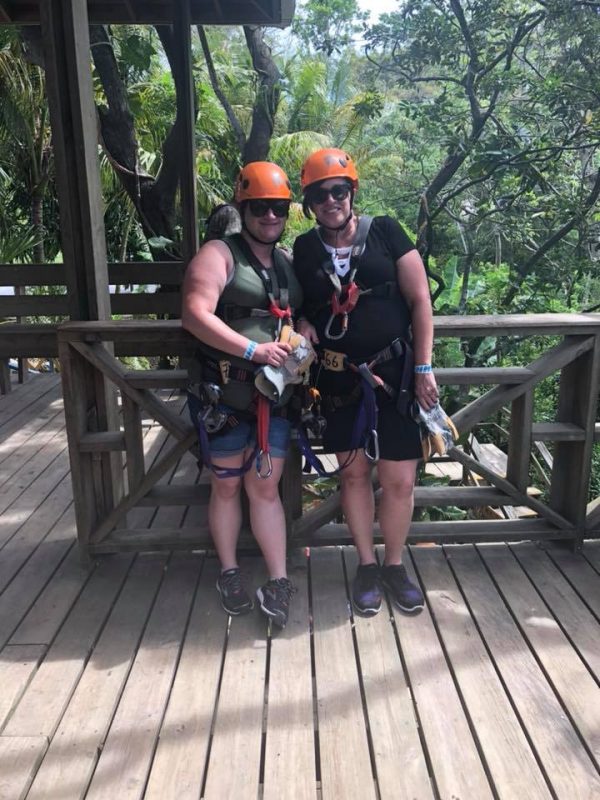 Oh, and at this moment the guides suggested bringing our phones along for zip-lining. They said that they would make sure we didn't lose them, so I decided to trust them. Until my mom and I were standing at my locker and she kept telling me how I should just bring my phone because I "never drop it." She kept repeating that phrase until I said, "Okay, you've totally jinxed me. We're bringing your phone." LOL. She has insurance on her phone and I don't, so I figured it was a safer bet. (And spoiler alert, no phones were dropped during zip-lining!)
The next part of our excursion was the regular zip-lining and after conquering my fear of the Zuperman, I had no fear of this part. We would traverse eleven zip-lines, which is way more zip-lines than I've ever done on an excursion so it really felt as if we got our money's worth. With some zip-lining excursions, I feel like I want to go back and do it all over again, but with this one, I felt pretty satisfied and tired and ready to be done by the time we came to the end.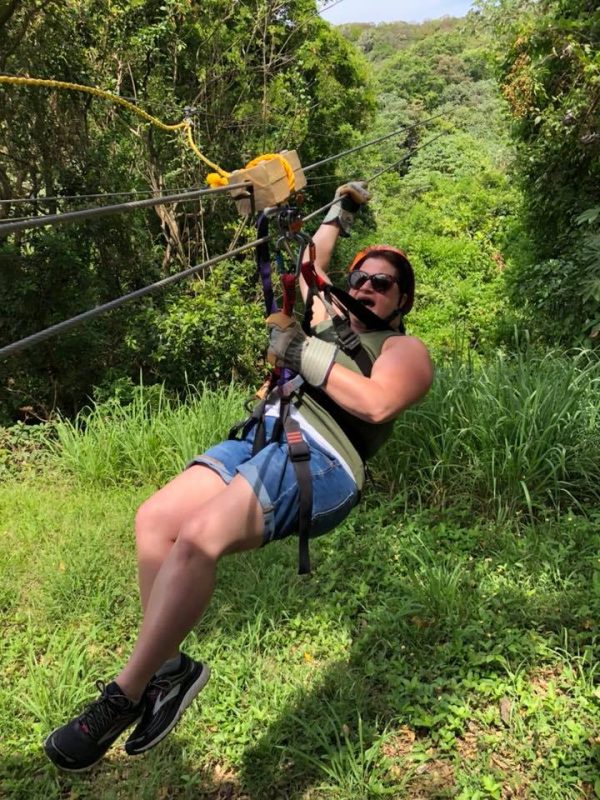 Zip-lines come in two forms: the ones that stop on their own and the ones that require the individual to slow themselves down using a glove. This one was the latter and I was a little concerned about it because I remember how difficult it was to stop the last time I had to use this method. This time, though, it was easy-peasy! I think the lines were easier to navigate and I got the hang of it pretty quickly.
And I just need to take a second to talk about the zip-line guides at South Shore. They are amazing. They just had a blast the entire time and made me feel super comfortable and safe. One of the guides even held my mom's iPhone for the majority of the excursion and got some great pictures of us! I was so grateful to him for doing that.
This adventure was one for the record books, too, because not only was it my first time doing a forward-facing zip-line, but it was also my first time zip-lining upside down! The guides offered this option for one of the lines and I was the first one to volunteer to do it because when else am I going to get a chance to do something like that?! I felt completely safe because I was strapped in with another guide. He told me to let go and I did and there I was, zip-lining upside down through the jungle. WHAT. It was such a cool experience, made even better that the guide captured it all on my mom's iPhone. (My mom also zip-lined upside down because she's ridiculously cool like that.)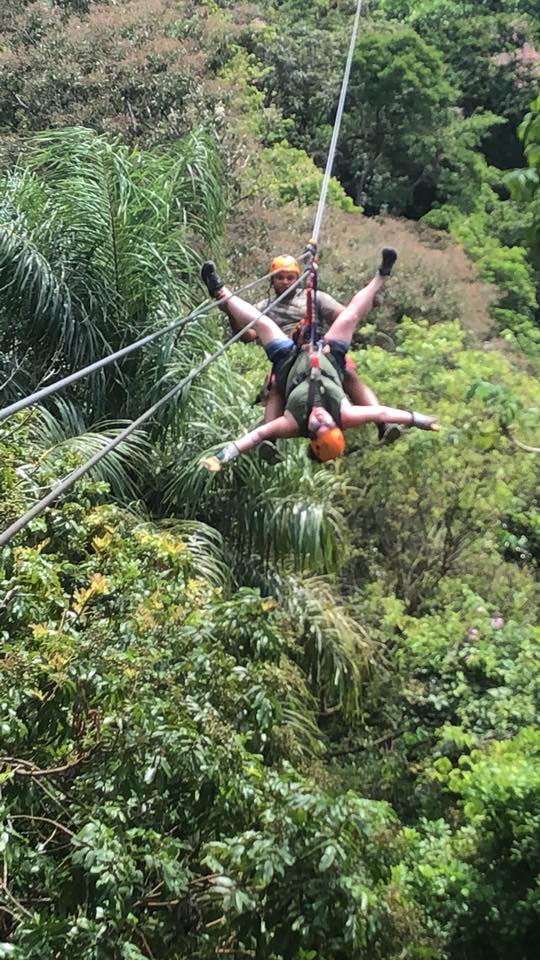 Anyway, I think it's safe to say that South Shore Zip-Line in Honduras is my favorite zip-lining experience to date. There was very little hiking involved (just some stairs to navigate from time to time, but there was always a rail to hold onto) and all of the zip-lines were so different and made each experience feel unique. I already know that I want to go back soon and do this adventure again.
After zip-lining, we boarded the same bus from before to go back up the mountain, but our excursion wasn't over – nope, we still had a nature walk to do. It's funny; I was actually more nervous about this than the normal zip-lining because it would involve some hiking and walking on suspension bridges. And the nature walk began by walking down 200+ steps, ack! I knew I held a lot of people up as I walked down those steps, holding on tightly to the rail and taking my time. Oh, well. I've learned my lesson and it's that I cannot trust my feet. 🙂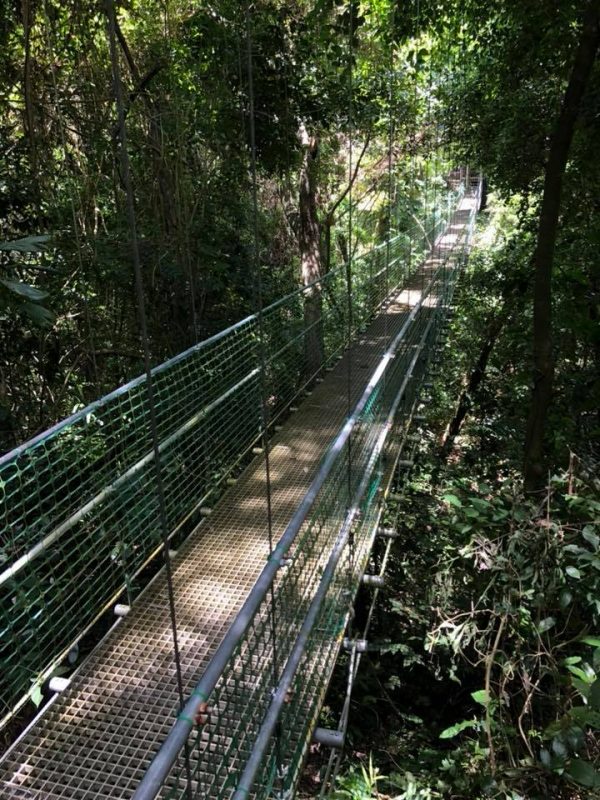 Anyway, the nature walk was okay, but nothing spectacular. I wouldn't have minded skipping it because I don't feel as if I learned anything new and our tour guide was a little underwhelming. Plus, we had to climb up those 200+ steps at the end and I was not a fan of that, especially since my legs were tired.
All in all, though, I want to shout about this excursion from the rooftops. It was perfect and everything I wanted it to be. I'm so glad I faced my fear and did the forward-facing zip-line because it was an experience I'll never forget. And I highly recommend South Shore Zip-Line if you're ever in Isla Roatan and want to do something completely out of the ordinary.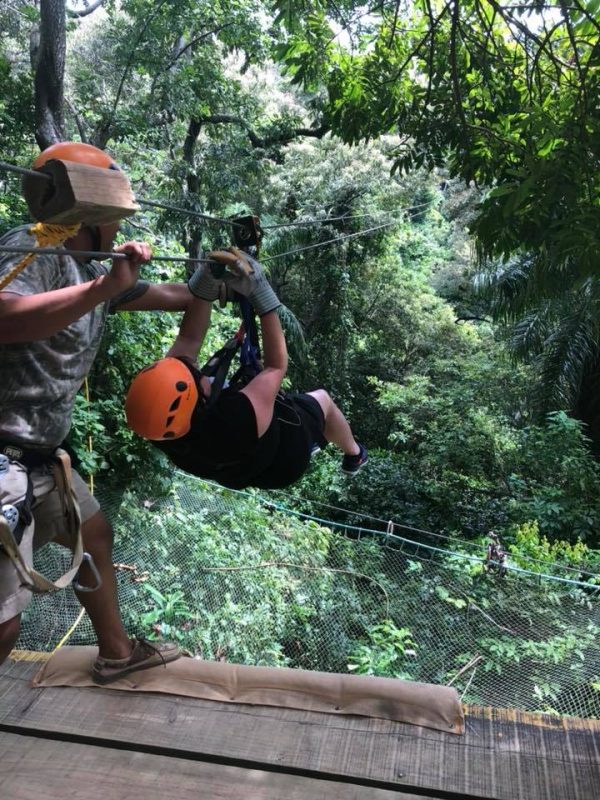 South Shore Zip-Line Adventures offers various zip-lining and eco park tours. They are the only zip-line company in Isla Roatan that is fully certified by the Association of Challenge Course Technology (ACCT), which means all of their zip-lines and gear undergo yearly inspections. It is located on the southwest tip of the island, just five minutes from West End and West Bay.