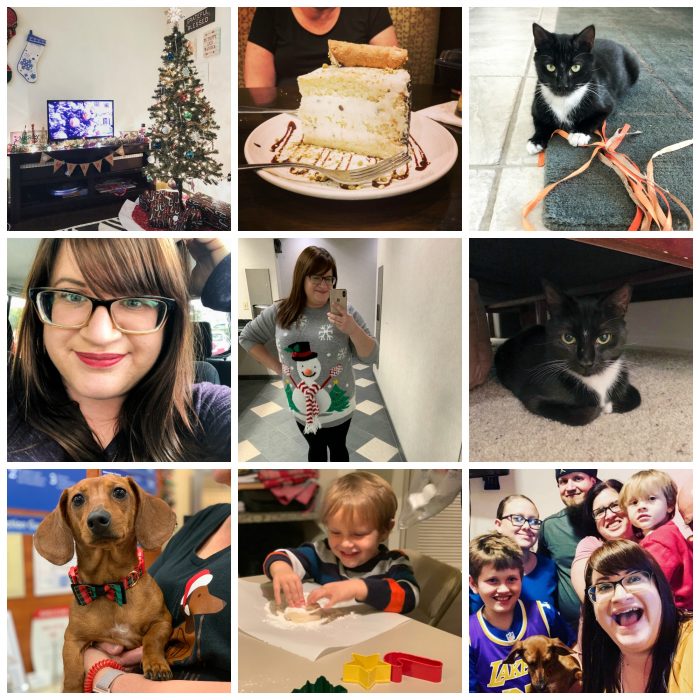 Books
I read 11 books in December to bring my yearly total to 134. I'm interested to find out if I can even come close to that number again, but I'm also not worried about doing so. Reading is my happy place, but it's not a competition and I don't read to fulfill any kind of arbitrary numbers goal.
I started December reading Starry Night, my first Debbie Macomber book, and it was just okay. I like my romances to be steamier and this book was a little too cutesy for my liking. I read Nine Perfect Strangers, Liane Moriarty's latest, and loved it. Such great characters and a unique plot! I listened to Rest in Power, written by the parents by Trayvon Martin, which was such a hard but necessary read. I read Alyssa Cole's latest contemporary romance, A Duke by Default, and found it so charming and lovely. Simply Irresistible by Jill Shalvis was a reread for me, but I loved it even more the second time around. I heard mixed reviews about The Great Alone but I ended up really liking the novel. It started off very slow but hit a turning point where I couldn't put it down. I read my third Christina Lauren novel, Dating You/Hating You, which was so much fun and I had a smile on my face the entire time I was reading it. I finished off my goal of reading four classic novels by reading The Catcher in the Rye, which I did not enjoy one bit. Arrogant white male protagonists are not my cup of tea, I suppose. I listened to What We Were Promised by Lucy Tan on audiobook and I enjoyed it more than I thought I would. It was really interesting to read about the culture of China, both historically and present day. I read Michelle Obama's memoir, Becoming, and loved it so damn much that it was my favorite read of the year. That's a must read, in my opinion. And, finally, I finished 2018 by reading One Day in December, which I received from Book of the Month. It was a good read, but not a standout.
Movies
The Princess Switch (★★★☆☆) – This movie was really, really cute, if also really, really cheesy. It's a Netflix original starring Vanessa Hudgens. She plays two characters: down-on-love Stacy who lives in New York and runs a bakery and Lady Margaret, a duchess who must marry a man she doesn't love in two days. Stacy and Lady Margaret run into each other on the set of a baking competition that Stacy is competing in and discover they look exactly alike, so they decide to switch places for two days. Lady Margaret wants two days to not think about her impending wedding and all the responsibilities that will entail, and Stacy wants a few days to live like royalty. Well, as this is a romantic comedy, Stacy ends up falling in love with Lady Margaret's fiance and Lady Margaret falls in love with Stacy's best friend and trouble ensues. It's completely implausible, but was a cute Christmas movie I watched while wrapping presents.
Podcasts
I loved the episode of How Search and Rescue Dogs Work from Stuff You Should Know. Fascinating!
I found myself enthralled by the Death, Sex & Money episode, When a Banker Was Called to the Convent. What a beautiful, funny soul Sister Josephine is.
On Hysteria, the founder of Moms Demand Action came on to talk about gun control and how much progress has been made in the past few years. It was really interesting!
This American Life just released an episode called The Room of Requirement, which seemed like a love letter to libraries. One of the stories was about the Haskell Free Library and Opera House, which sits right on the border of the US and Canada and is a meeting place for people who aren't able to leave the US due to Trump's Muslim ban and their families (who come in via the Canada side). Another story followed a woman connecting with her favorite children's librarian who brought her hope and inspiration when she needed it. This episode is one of TAL bests, I think, and totally worth a listen.
Posts
I revealed that I'm an Enneagram Nine and what that means for me personally.
I introduced Eloise to the blog!
I made my annual Christmas list as well as talked about my favorite present-day Christmas traditions.
And I completed another round of "Best of…" posts, which is always my favorite series because it allows for such great reflection on my year.
Highlights
> I received the honor of employee of the month at work, which was such a surprise! I mean, I definitely deserved it because I work damn hard at my job, but it was still quite the shock to hear my name (and all the nice things our CEO had to say about me!)
> My mom and I spent an evening together shopping for Christmas presents and then stopped at Steak n Shake for dinner where we enjoyed some very delicious peppermint milkshakes. Best decision!
> I adopted Eloise! Her "gotcha" day is officially December 8th, and my life has not been the same since she came home with me. Life is just so much better now!
> My mom and I had a second Christmas shopping adventure, this time at the mall and this time finishing with an outstanding cannoli cake. We did December right, that's for sure.
> I finally went to the doctor in mid-December after spending two weeks with a terrible cough that wouldn't go away and was keeping me up at night. She treated me for bronchitis, sending me home with a z-pack and steroids, which healed me right up! Thank heavens for modern medicine, am I right?
> I upgraded my phone to the iPhone XS and I'm oh-so-happy to make that decision. I'm part of the "iPhone Forever" program through Sprint, which means I can usually upgrade my phone for free whenever I want, so I decided to take the plunge and do it. (What can I say? I desperately wanted Portrait Mode.)
> We had a really fun holiday day at work! We had a cookie bake-off, Secret Santa gift exchange, and everyone wore ugly Christmas sweaters. It was so much fun!
> I met up with my mom and Chip at PetSmart for holiday pictures with Santa. Chip was a little apprehensive about everything, but we got a great photo of him with Santa. (And he looked so handsome in his Christmas bow tie!)
> My girlfriends and I had our annual fancy dinner and Secret Santa gift exchange. It was such a great night!
> My mom had me, my brother, and my nephews over to make Christmas cookies and it was so much fun! I ate a good amount of cookie dough and even the littlest nephew was happy to get in on the action. I can't wait to do it again next year.
> I spent Christmas Eve baking cookies and then went out to dinner with my mom and stepdad at a fancy steakhouse. It was our second year doing that, so I think it might be our new tradition.
> I already talked about Christmas Day on a previous post, so suffice it to say, it was a lovely day and I felt very loved and happy.
> The day after Christmas, a good friend came over to meet Eloise and Eloise actually came over to her and let her pet her. I was so surprised that she was so friendly! We also ate pizza and watch Ellen's comedy special on Netflix, so it was a solid night.
> I spent New Year's at a house party with some friends, and actually got a little emotional as we counted down to the new year, champagne in hand. I have such a blessed life and great friends and I was just so grateful to have such a fun start to 2019.
What was a highlight from December for you?